UK census 'a historical treasure trove', MPs told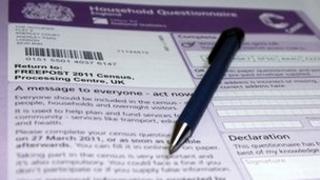 The census is an important historical record which helps chart change in British life, but has less value as a policy-making tool, MPs have been told.
Population expert Prof Heather Joshi told the Commons science committee it was "a treasure trove of evidence about the social fabric of Britain".
But statistician Prof Les Mayhew said the census was not up-to-date enough to be used to manage resources properly.
The census is carried out every 10 years, most recently this year.
There have been censuses in the UK since 1801 and the information recorded has increased over time.
The 2011 form included questions on jobs, education and ethnic background, as well as on the precise make-up of every household.
'Misdirecting resources'
The project this year was expected to cost £482m - more than double that of the last census - and critics have suggested that bill is too high and the information obtained of limited use.
Prof Mayhew, of City University in London, told the committee: "We think you could count the population every year for about a tenth of the cost of the census."
He said he and a team had recently carried out a study of the six Olympic boroughs in east London and got very detailed results in just two months.
"There are changes of up to 20% per year in population so if you're measuring something that's 10 years old - and you can actually be using data that's 12 years old with the census because it takes a couple of years to publish - you could be way out," he told the MPs.
"You could be misdirecting resources... for the management of local resources, localism, unmet need, creation of health and wellbeing boards, much better data - population intelligence - is essential."
Prof Mayhew said much of the data gathered by the census was already available in other administrative sources.
Where there were gaps, for example, the census question on religious beliefs, he said small targeted surveys could be used to supplement.
He added that without the census there would be "a huge period of innovation within the research community" as they looked for new methods of data collection.
'Fantastic document'
But Prof Joshi, president of the Society for Lifecourse and Longitudinal Studies, said the end of the census would prompt much dismay among historians.
"The census tells you who's living with whom... it tells you about unusual combinations of people living together, like husbands and wives who are more than 20 years apart... it is something that's interesting from a research point of view and also a policy point of view," she said.
She acknowledged that for up-to-the minute understanding of specific areas it was not the ideal tool, but said: "For understanding less local issues like trends in the labour force, or trends in the family, or projecting what the birth rate will be, the census is a complete treasure trove of evidence about the social fabric on which lots of other data sources build.
"It has laid down this fantastic document of how Britain has changed over more than a century - to know where you are in the picture of long term change should be important to policy makers as well as social scientists."
Prof Joshi was backed up by Prof David Blane, deputy director of the Economic and Social Research Council's International Centre for Lifecourse Studies.
Without the census, he said, the Office for National Statistics' longitudinal study, which allows researchers to follow specific individuals over the course of decades, would cease to exist.
"It's a unique data set," he said. "It takes Britain from the end of the post-war settlement in 1971, through deindustrialisation in 1981, through the feminisation of the work force in 1991, to globalisation in 2001.
"You can look at these large scale social processes and their impact on individual lives."