UK will fight EU benefit battle 'every inch of the way'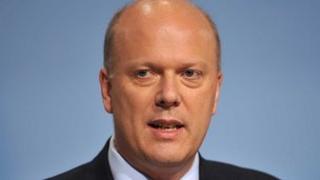 Employment Minister Chris Grayling has said the UK will fight a legal battle over welfare entitlements for non EU-nationals "every inch of the way".
The UK is taking legal action against Brussels over rules it says may allow citizens from European countries outside the EU to get benefits without working or paying taxes in the UK.
Mr Grayling told MPs vital principles were at stake over the issue.
And he suggested the UK would have a "big problem" if it lost the case.
Appearing before the Commons European Scrutiny Committee, which examines EU legislation, Mr Grayling defended the recent decision to take the issue of who can claim certain benefits in the UK to the European Court of Justice.
Precedent
The UK argues it has an opt-out, under existing treaties, from rules introduced last year to "co-ordinate social security systems" between the European Union and European Economic Area countries - Norway, Iceland and Liechtenstein.
The UK says it would be obliged to pay benefits in certain circumstances to citizens from those countries living in the UK, including some who are not working.
Mr Grayling said the UK was not picking a fight with the countries concerned which were "long-standing trading partners" and admitted there was not an "immediate pressure of people turning up at the door and saying give us access to benefits".
But he said the EU was likely to negotiate economic and political agreements with other countries bordering the EU, such as Ukraine, in the future.
While the UK had "no intention" of allowing these agreements to contain binding welfare provisions, he feared the UK's ability to exempt itself from such arrangements could be "swept away" unless the legal position was clarified now.
"This was not the battleground," he told MPs.
"The number of people involved is tiny. This is all about principle. The problem for us is if they turn into a precedent for the future."
'Poker game'
Ministers say nation states should remain in control of determining their own social security arrangements and are particularly concerned that the proposals could "extend" welfare entitlements to some people who are not working due to sickness, disability, or caring responsibilities.
The UK believes its legal position is sound although Mr Grayling acknowledged that it had initially threatened legal action in the hope the European Commission would back down - in what he characterised as a "poker game".
The European Commission says the UK is legally obliged to meet the cost of certain limited benefits - such as pensions - as a result of signing EEA agreements. But it says it only applies to non-EU nationals legally entitled to live and work in the UK and the UK remains in "total control" of who is allowed to work in the country.
The EU and UK are already at loggerheads over the much wider issue of criteria for EU-wide benefits.
Brussels says the UK is contravening EU law by making it easier for UK citizens to obtain certain benefits than nationals of other EU states but ministers fear taxpayers could have to pay large sums to non-UK citizens - including so-called "benefits tourists" not looking for work - if the UK has to comply.
Mr Grayling said this was the "most immediate and present danger" to the UK and suggested other countries were also worried about the potential ramifications.
"What we are trying to achieve is a clear set of rules which set out when you can or cannot claim benefits in a country which is not your country of origin or residence."
'Right to reside'
Brussels says it has not seen any "concrete evidence" that EU nationals will come to Britain specifically to claim benefits and says the UK must explain how it is going to bring its legislation into line with EU law by the end of the year or face being referred to the ECJ.
At the moment, the UK grants entitlements such as child benefit, child tax credit, state pension credit, jobseeker's allowance and employment and support allowance to those with a "right to reside".
The commission says there are already EU-wide "habitual residence" rules - focused on length of stay and community ties - which are strict enough and the UK is imposing an additional test, which indirectly discriminates against non-UK EU nationals.
While UK nationals can easily prove their "right to reside" based on their UK citizenship, the commission says other EU nationals have their applications heard on a case-by-case basis, which breaches rules giving all citizens equal rights within a single EU labour market.