Tighter checks pledged to close Eurostar 'loophole'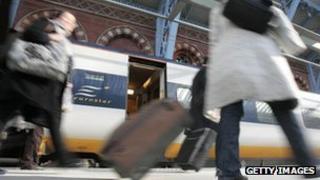 The UK Border Agency says "tighter controls" will be introduced to stop some Eurostar passengers being able to enter the UK without passport checks.
The BBC has learned people can travel from Brussels to Lille without showing passports as both are in the Schengen area, then stay onboard to the UK.
International Group Director Jonathan Sedgwick told MPs he was in discussion with Belgian authorities and Eurostar.
He admitted the current "risk-based" checks needed improving.
BBC Radio 4's The Report discovered the so-called "Lille loophole" through internal UK Border Agency documents which suggest some staff have faced the threat of arrest by Belgian police, for trying to stop people exploiting it.
The Schengen agreement allows passport-free travel between some European countries, but the UK is not a signatory.
Passengers with tickets from Brussels to Lille can board the train to London without showing a passport, but no-one checks whether passengers actually get off the train at Lille and UK Border staff do not perform checks on board.
So passengers can continue on to London St Pancras, without going through further passport control, and illegally enter the country.
Mr Sedgwick was questioned about the report at a session with the Commons Home Affairs Committee on Thursday.
He said he was going to Belgium next week to finalise arrangements with the authorities there and Eurostar, saying: "We think there are practical things we can do to make it much more watertight than it presently is, so that if someone has bought a ticket for Lille, they need to get off the train at Lille."
He clashed with members of the committee for refusing to call it a loophole - saying it was not the case people could travel from Brussels, through Lille, to the UK with no checks at all.
Eurostar staff also checked tickets, he said and Lille-bound passengers would face security checks on baggage - although not passport checks.
Mr Sedgwick told them there were a "whole range of operational measures in place" adding: "We carefully monitor all trains that stop in Lille. We have arrangements in place to remove passengers from the train at Lille."
To date this year, up to 140 passengers had been removed from the train at Lille, he said - and he denied knowledge of UK border staff being threatened with arrest by Belgian police for acting to stop passengers exploiting the loophole.
"We have a very close working relationship with the Belgian authorities."
'Most unsatisfactory'
He said where staff had suspicions about passengers with tickets for Lille, they could carry out ticket checks at the London Eurostar terminal, St Pancras International. So far this year, 160 people had been stopped at St Pancras and returned, because they did not have the right documents.
But he admitted: "Not every train is checked, we do it on a risk basis... when we believe it is necessary."
"Of course it is perfectly possible that in some circumstances people can get through but I would not want the committee to believe that there were no checks we could carry out."
He added that he believed processes in Lille would change and said controls could be stepped up at St Pancras: "We intend to introduce tighter controls overall."
He said the Border Agency was working "very closely" with Eurostar and Belgium to strengthen arrangements.
Committee chairman Keith Vaz told him the state of affairs was "most unsatisfactory" and the "vast majority" of people were not being monitored.
"We want to see this loophole closed. It's not acceptable that people are able to travel in this way." He urged Mr Sedgwick to give "straight answers" to MPs' questions.
Labour MP Alun Michael told Mr Sedgwick: "It is quite clear there is a loophole... if there is a possibility of people coming through, then it's a loophole."
Mr Sedgwick, who initially said he "wouldn't call it a loophole", replied: "If that is the word you want to use, I'm not going to argue with it."
The Report is on BBC Radio 4 on Thursday 8 December at 20:00 GMT. Listen to the full programme via the Radio 4 website or download the programme podcast.