Cameron's No 10 flat makeover details revealed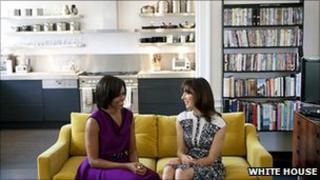 Prime Minister David Cameron has been forced to reveal more details of the major makeover he and his wife Samantha gave their Downing Street flat.
The scale of the work has been made public after a ruling by Information Commissioner Christopher Graham.
However, there are no details of the cost, which reports say ran to £64,000.
A Downing Street spokeswoman said there was a maintenance grant of £30,000 for the flat, but any spending beyond that was paid for by the Camerons.
The facelift was ordered by the couple after last year's general election.
According to the work schedule, the Camerons ordered the removal of almost all the furniture and fittings they had inherited.
Out went antique furniture, including old-fashioned damask and floral curtains, and curtain poles.
'Floating suspended ceiling'
The bathroom underwent some of the most extensive work, with the existing bath, wash basins, toilet, vanity unit and marble and timber panelling all being removed.
A wall was demolished and rebuilt to allow for changes to cupboards.
The floor was fitted with natural slate tiles while the refurbishment also specified a "floating suspended ceiling" containing "six low voltage downlighters switched from the door".
The details were released to the Labour MP Tom Watson after he complained to the information commissioner about the handling of a request for details of the refurbishment, which he had made under the Freedom of Information Act.
The government publishes figures annually for any taxpayer-funded refurbishment work over a £25,000 threshold, but the amount spent by Mr and Mrs Cameron from their own pockets will not be published, said the Downing Street spokeswoman.