MPs say MoD's army vehicle spending was 'failure'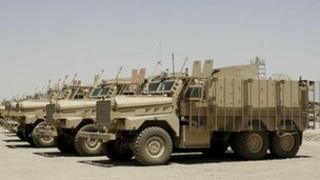 Parliament's spending watchdog says attempts by the Ministry of Defence to buy new armoured vehicles have been an "extraordinary failure".
The Commons Public Accounts Committee says officials had to go "cap in hand" to the Treasury for £2.8bn extra to buy vehicles for Afghanistan.
The MoD was also unable to say who was directly responsible, it adds.
But the report has provoked an angry row, with ministers saying inaccuracies had "ruined" it.
The committee said the MoD had proved to be both "indecisive and over-ambitious" in its attempts to manage spending.
"Sacrificial lamb"
It concluded that £1.1bn spent by officials since 1998 to buy 3,700 armoured vehicles had resulted in only 160 being delivered.
"To support the troops on the ground in places like Afghanistan they had to go cap in hand to the Treasury who gave them £2.8bn," says the committee's Labour chairman Margaret Hodge.
"They used that to buy Mastiff heavily armoured vehicles. They are OK on the streets of Kabul but they are not suitable for future engagements.
"Is this value for money? Certainly not.
"I'm very concerned about the armoured vehicles programme because that seems to be the first sacrificial lamb every time that the MoD looks for cuts."
The report says that "no-one has had to answer for this prolonged failure of management" because senior officials do not remain in post long enough.
As a result there will be shortfalls in armoured vehicles until at least 2025, it claims.
"Unaffordable plans"
But Defence Minister Peter Luff strongly attacked the report, saying inaccuracies had "ruined" it.
"The PAC is again misrepresenting the facts," he said.
"It is not true to say the £1.1bn spent on armoured vehicles has not delivered any equipment.
"It has delivered Titan, Trojan and Viking vehicles, with Trojan and Viking used on operations in Afghanistan."
Since May 2010 more than £350m has been spent and more than 2,000 new protected vehicles have been delivered for Afghanistan, Mr Luff went on.
"We recently announced a £1bn upgrade to the Warrior infantry fighting vehicle fleet and over the next ten years we plan to invest a total of £5.5bn in armoured vehicles."