Number of unregistered voters 'rose 50% in 10 years'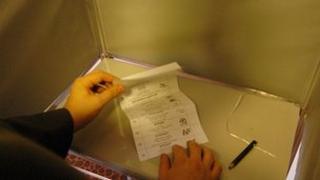 Up to six million British voters are not registered to do so, a 50% rise in ten years, says a report.
The "likely" figure from December 2010 shows that registration has "not kept pace with a rising population", the Electoral Commission report says.
The government is planning a switch from household to individual voter registration aimed at reducing fraud.
The watchdog says a change is needed but urged ministers to hold a household canvass in 2014 to keep numbers up.
In its report, the commission warns that nearly half of those missing from the register - around 2.6m - believe they are registered to vote. Many people wrongly think you are automatically registered to vote if you are 18 or over, it adds.
'Disengagement with politics'
Only 56% of 19-to-24 year olds were on the electoral register compared with 94% of those aged over 65. While 86% of white voters were on the electoral roll, the figure for ethnic minority groups was 77%.
The data was drawn from a "nationally representative" sample of addresses in 50 local authorities, with house-to-house surveys carried out by the polling company Ipsos MORI and was funded by the Cabinet Office.
It showed that the December 2010 registers were an estimated 85% to 87% complete compared to the December 2000 registers which were 91-91% complete, equivalent to around 3.9m people.
Although the 2000 canvass came the year before a general election - the Electoral Commission said it would not expect that to skew the figures as although an election might mean a last-minute rush to register by some, the canvass is done the previous autumn when an election is not on most people's minds.
By April 2011 the figure was even lower - 82.3% complete - many of whom will be people who have moved house, the watchdog says.
Electoral Commission chairman Jenny Watson said reasons for the decline in numbers of people registered to vote included "changes to our population and increasing disengagement with traditional party politics" and reinforced the need for better public awareness.
The watchdog is calling for the government to rethink plans not to hold an annual household canvass in 2014.
Councils usually hold an annual canvass in the autumn each year to update the Electoral Register - sending out voter registration forms to all households.
Individual registration
But the government is moving away from a system where the head of the household registers everyone to vote, which has been criticised for being open to fraud, to a new system where people register themselves.
It intends to hold the last annual canvass in 2013 and to use that information to inform the switch to individual registration from 2014.
People already on the electoral roll will remain on it but those who have moved house or who request a postal or proxy vote will be asked for "identifiers" - like dates of birth and National Insurance numbers - when they receive the new individual voter registration forms, as part of moves to phase in the change.
The Electoral Commission says another canvass should be held in early 2014 - the year before the next general election - to ensure the information held is as up to date as possible.
Ms Watson said introducing individual registration was "right in principle and it is essential that it works in practice".
"We have a once in a generation opportunity to overhaul our electoral registers and to make sure everyone who should be is included.
"The commission has recommended a number of important and practical steps that the government needs to take to ensure this change goes smoothly.
"It will be particularly important to have an annual canvass in early 2014 to make sure that the transition from household to individual electoral registration takes place from the best possible base."
'Disaster for democracy'
The Electoral Reform Society said the switch could mean numbers of unregistered voters "sky rocket" because of the "reckless way it's being introduced".
Chief executive Katie Ghosh said three million people "could be disenfranchised simply for moving home"
"The government's proposal to let voters 'opt-out' from registration is unhelpful. Their plan to drop the annual canvass in the run up to the next general election is nothing short of irresponsible."
Labour said the watchdog's findings were "a disaster for British democracy" - and said electoral boundaries should not be redrawn on the basis of an incomplete register.
Shadow justice minister Sadiq Khan said: "It also highlights the fact that that the government's flawed proposals for introducing individual electoral registration must include adequate checks and balances to mitigate against a sharp fall in the numbers registered to vote."
A Cabinet Office spokesman said the 2014 canvass had "not been cancelled, it has been modified to reflect the needs of individual registration".
The "write out, reminders and doorstep canvassing" would be carried out, he said.
"We remain absolutely committed to ensuring that the maximum number of people are on the electoral register," he said.
He said the biggest reason for people falling off the register was moving home and the government was looking at ways to tackle that, as well as studying the results of attempts to find missing voters by comparing registers with other public databases and looking at online voter registration.
Deputy PM Nick Clegg has already indicated that a controversial proposal to allow people to tick a box saying they do not want to be on the electoral register may be dropped.