'One-day ban' suggested for papers guilty of contempt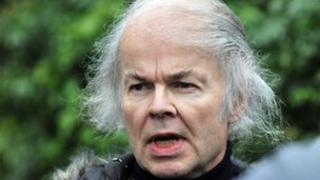 Newspapers found guilty of contempt of court should be forced to suspend publication for a day as punishment, a Lib Dem peer has suggested.
Lord Thomas said "measures that will really bite" were needed in very serious cases such as that of Christopher Jefferies.
The Sun and the Daily Mirror were fined for contempt over coverage of his arrest in the Jo Yeates murder case.
Justice Minister Lord McNally said it was "an interesting idea".
A debate in the Lords was prompted by a question from Labour peer Baroness Quinn.
She asked whether the government would consider changing the law "so that action can be taken at an earlier stage rather than when havoc has already been wrought on innocent victims' lives".
Lord McNally said there were no plans to change the law, but the Attorney General took the issue of contempt very seriously and had asked the Law Commission to investigate whether current legislation was adequate.
'Gamble'
There has been concern about both contempt of court and libel during pre-trial coverage.
Lord Thomas, who is a QC, also cited the Madeleine McCann case in which both her parents and early suspect Robert Murat won damages from large sections of the media.
The peer said certain elements of the press often took "a gamble" with pre-trial publicity that the arrested suspect would subsequently be charged and convicted, and therefore no proceedings for libel or contempt would follow.
"In the McCann and Jefferies case they then became completely contrite and settled their cases without question," he said.
"Shouldn't they lose a day's edition as a result of circumstances as bad as that? Can we not have measures that will really bite on the press when they go astray?"
Public concern
Lord McNally said he understood there was concern across all parties about the situation and that was why the Law Commission had been involved.
He added: "This is not in any way a sense of kicking it into the long grass, or any sense that we do not appreciate - and particularly the Attorney General appreciates - the real public concern about these matters."
Earlier this month, Attorney General Dominic Grieve gave a speech at City University in which he criticised "the increasing tendency of the press to test the boundaries of what was acceptable over the reporting of criminal cases".
He said: "At times it appeared to me the press had lost any sense of internal constraint and felt able, indeed entitled, to print what they wished, shielded by the right of 'freedom of expression' without any of the concomitant responsibilities."