Lord Mandelson: Ed Miliband needs to 'define project'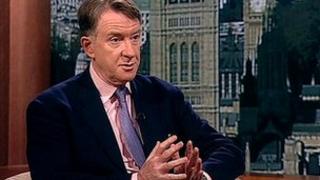 Lord Mandelson has called for "more policy and fewer jokes" from Ed Miliband at Prime Minister's Questions.
The former business secretary told the BBC the Labour leader was "a chap with views... a project... that needs to take shape, becoming better defined".
Lord Mandelson, one of the co-founders of the "New Labour project", said the party's poll decline predated Mr Miliband's time as Labour leader.
His comments came as the Conservatives enjoy a post EU summit poll boost.
Lord Mandelson told the Andrew Marr Show that Mr Miliband had a "position in politics" that was not New Labour - "he's perfectly clear about that".
"He would say the circumstances and the conditions in Britain are not the same as they were when we were creating New Labour in the 1990s," Lord Mandelson added.
"He believes that we need a different sort of social contract.
"Now there are dangers in developing that, but he has to navigate his way through and I think 2012 is the year to do that."
Lord Mandelson also said Mr Miliband had seen a rise in Labour support since he took over, and been successful in getting support from Lib Dems - but not yet from Conservatives who were still "giving the government the benefit of the doubt".
The Labour Party has been generally ahead in opinion polls during Mr Miliband's time as leader, but the past week has seen a number in which the Conservatives have been ahead.
On Sunday an ICM poll for the Sunday Telegraph suggests 40% support for the Conservatives, against 34% for Labour and 14% for the Liberal Democrats.
ICM interviewed 1,008 adults by telephone on 14/15 December.
At the last Prime Minister's Questions of the year Mr Miliband joked about the PM's differences with his deputy Nick Clegg.
Mr Cameron hit back with a reference to the Labour leader's differences with his brother and said all Labour MPs were united in wanting a new leader for Christmas.