Kim Jong-il death may be turning point - William Hague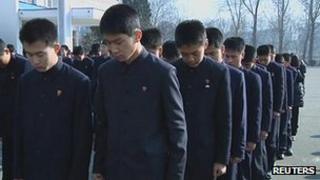 William Hague has said the death of North Korean leader Kim Jong-il could mark a "turning point" for the country.
The UK foreign secretary said that while it was a "difficult time" for the country, he hoped North Korea's new leadership would engage with the international community in the future.
Such a course offered the "best prospect" of improving the lives of the North Korean people, he added.
Kim Jong-il, North Korea's leader since 1994, reportedly died on Saturday.
World leaders are monitoring the situation following Kim's death and have insisted they are committed to maintaining stability in the region.
"The people of N Korea are in official mourning after the death of Kim Jong-il. We understand this is a difficult time for them," Mr Hague said.
But he added: "This could be a turning point for North Korea. We hope that their new leadership will recognise that engagement with the international community offers the best prospect of improving the lives of ordinary North Korean people.
"We encourage North Korea to work for peace and security in the region and take the steps necessary to allow the resumption of the six party talks on denuclearisation of the Korean Peninsula."
Relations between North Korea and the UK have opened up slightly in recent years after North Korea set up an embassy in London in 2003 and a number of junior British ministers visited the country.
Amid concern that the news could lead to instability in the impoverished, nuclear-armed nation with few allies, South Korea's military was put on alert. Its National Security Council is convening an emergency meeting, Yonhap news agency reports.
The Japanese government has also convened a special security meeting.
The White House said it was "closely monitoring" reports of the death. The US remained "committed to stability on the Korean peninsula, and to the freedom and security of our allies", it said in a statement.