Clegg vows to win 'fight' over House of Lords changes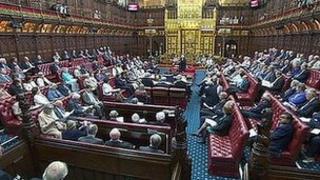 Nick Clegg has warned opponents of an elected House of Lords the government will win "if it comes to a fight".
He said the current appointed chamber, despite "its veneer of expertise", was "an affront" to democratic principles.
In a wide-ranging speech, he said that political reform was a key facet of the "open society" he and other liberals wanted, alongside more social mobility and fairer wealth distribution.
He also made clear his opposition to tax breaks for married couples.
The deputy prime minister and Lib Dem leader used a speech to the think tank Demos, to restate his political principles and emphasise differences between his party and his Conservative coalition partners.
Outlining his vision for an "open society", Mr Clegg said liberals "believe that the future can and ought to be better than the past", contrasting this with conservatives who he said often sought to preserve the status quo, "embracing change reluctantly, often after the event".
While there was some "overlap" between this "open society" and David Cameron's flagship "Big Society" vision for community empowerment, he said there was an "important philosophical difference" in terms of where different political traditions believed power should reside in society.
He suggested the UK's "open-spirited people" were being held back by "closed institutions" - in business, politics, the media and the law - which hoarded power and were often unrepresentative of society as a whole.
"Media moguls, dodgy lobbyists corrupting our politics, irresponsible bankers taking us for a ride and then helping themselves to massive bonuses, boardrooms closed against the interests of shareholders and workers," he said.
"The values of the hoarders are increasingly out of touch with the spirit of openness alive in the UK."
The House of Lords was a "potent symbol" of this closed society, Mr Clegg said, stressing that he was committed to radically overhauling the legislature.
Ministers are currently consulting on plans to reduce the size of the Upper Chamber to about 300 and to elect the vast majority of its representatives, starting in 2015.
While acknowledging the "value experience and expertise" that many current peers have, he said an unelected chamber could not be defended in the 21st Century.
"The Lords as currently constituted is an affront to the principles of openness which underpin a modern democracy... I am hopeful we can secure a significant degree of cross-party consensus on this and indeed support from Lords themselves.
"But let there be no doubt. If it comes to a fight, the will of the Commons will prevail."
While the coalition agreement included a committee being established to bring forward "proposals for a wholly or mainly elected" House of Lords, Mr Clegg's party is widely seen to be far more enthusiastic about the idea than their coalition partners.
"Bread-winning dad"
He also made clear the differences between himself and the prime minister over tax breaks for married couples.
David Cameron told his party conference in October: "Marriage is not just a piece of paper.
"It gives children stability. And it says powerful things about what we should value. So yes, we will recognise marriage in the tax system."
But Nick Clegg said in his speech: "We should not take a particular version of the family institution, such as the 1950s model of suit-wearing, bread-winning dad and aproned, home-making mother - and try and preserve it in aspic.
"That's why open society liberals and big society conservatives will take a different view on a tax break for marriage."
Labour's deputy leader Harriet Harman accused him of using "empty words" to "prop up a Tory government which is making families and children bear the brunt of their unfair policies".
She said: "With the Government trebling tuition fees and abandoning our national interest by walking away from Europe, people will know there is no liberal tradition Nick Clegg is not prepared to sacrifice."