Germany wants to 'build bridges' with UK over Europe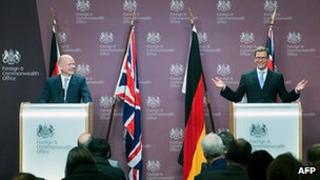 Germany's foreign minister has suggested it can resolve differences with the UK over the future of Europe.
After holding talks with his British counterpart William Hague, Guido Westerwelle said he wanted to "build bridges over troubled waters".
Asked about the prospect of the UK eventually signing an EU-wide pact, he said "with goodwill it is doable".
But Mr Hague said the UK would not set aside its demands for safeguards on regulation for the City of London.
The UK has been asked to sit in on talks about formalising moves towards fiscal union among EU members - despite vetoing an EU treaty change to facilitate this earlier this month.
'Common future'
At a press conference in London, Mr Westerwelle said the UK was an "indispensable partner" within the EU and other EU members had no "hidden agenda" to try to rein in the City of London.
"There is no doubt for us that we want to make the next steps in the European Union together as 27," he said.
"We are willing to build bridges over troubled waters. We have mutual interests in the EU and a common future."
Asked whether the UK could ultimately join an EU-wide agreement on common budgetary rules and oversight, should it receive the necessary assurances about its own economy, Mr Westerwelle suggested this was "doable".
"We are in this situation. Do we think we can change it or not? I think we can change it and I think we should change it. With goodwill on both sides it will be possible and I think it is in our mutual interests."
And he insisted that just as European co-operation and integration after World War II was "the answer to the darkest chapter in our history", Europe's leaders would now come up with answers to the current crisis facing them.
"For us, Europe is not only our destiny but also our desire. It is the lesson we learnt. Please understand for us Europe is much more than a currency or a single market... It is a political union we want."
'Economic situation'
Mr Hague said the UK was looking to "expand and intensify" co-operation focused on trade and delivering "tangible benefits" on jobs and productivity.
"That is what the overall economic situation demands and that is what the global situation demands," he said.
"Engagement does not stop at any point. The day of the European Council, the day after the European Council, we work closely with all our 26 partners on a wide range of issues and that has not missed a beat."
But he insisted that the UK would not be watering down its conditions for agreeing to any EU-wide pact. It rejected an agreement earlier this month, saying other EU members had not been willing to accept "modest" safeguards on financial regulation and the single market.
"Let me make clear that the requirements we set out at the time of the European Council remain and absolutely remain requirements for the UK," he said.
The two men also said Prime Minister David Cameron and German Chancellor Angela Merkel had had a "constructive" phone conversation about the way forward.
The BBC's diplomatic correspondent James Robbins said the tone of the press conference suggested a clear attempt by Berlin to calm recent tensions after 10 days of wrangling about who was to blame for the UK's decision to veto the EU agreement.