The year showbiz hit back at politics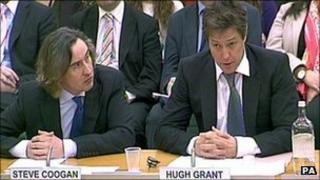 While politicians might usually be expected to chase celebrity endorsements, 2011 was the year when the stars came gunning for Westminster.
Taking the lead was romcom veteran, and sometimes unwilling star of the tabloid front pages, Hugh Grant, in a role of his own making - celebrity phone hacking supremo.
The A-lister's unlikely career change began with a bizarre tale which began with his car breaking down and ended with him secretly taping a former News of the World journalist revealing tactics used to get stories on him.
The journey took him all the way from the Hollywood foothills to the bright lights of the Lib Dem, Labour and Conservative party conferences - determined to keep up the pressure on MPs to do something about his tabloid tormentors.
If they hoped to get anything back, they were to be disappointed. Kind words for politicians were few.
It was revealed he'd taken George Osborne to task at a dinner party over the Conservatives' hiring of former NoW editor Andy Coulson as No 10 spin doctor in chief and he told Labour delegates that the party's "years of association with the Murdoch press" was not "your best look".
'Slightly depressing'
The Lib Dems might have felt they had a shot at a celebrity endorsement when he told them they "more than any of the other parties, have a good bill of health" on the issue.
But he said that a private meeting with Nick Clegg "did slightly depress me" - due to a lack of action promised until after the Leveson inquiry reported back.
He's since gone on to star on the BBC's Question Time, the Leveson inquiry and a joint parliamentary committee on the same topic - alongside fellow Hollywood Brit Steve Coogan.
One celeb happier to hold our elected representatives a little closer in 2011 was former Baywatch and Knight Rider star David "The Hoff" Hasselhoff - who posed for pictures with David Cameron at Westminster in February, having been invited by the Conservative MP, and former song writer, David Morris.
The story goes that the PM asked the star why he was there, to which The Hoff memorably replied: "To see you, buddy." An aide to Mr Morris summed up the encounter as "very surreal".
'Cosmetic' politics
Later in the year another US star found herself embracing British politics, as Meryl Streep stepped into the shoes and donned the famous handbag of Britain's first woman PM.
A movie about Baroness Thatcher - a politically divisive figure - was always bound to attract some controversy.
On the left, some have complained that The Iron Lady "romanticises" the Thatcher years. On the right there have been questions about an "intrusive" film framed around her struggle with dementia in later years.
Streep said in interviews she had not been sympathetic to Mrs Thatcher's policies and had thought twice about taking the role on, but told the Mail the former PM's "clarity" was missed today.
Continuing a theme of celebrity disdain towards the political classes she also took a minor swipe at "cosmetic" modern politics.
"Today it's all about feelings. You know: 'How do I come off?' and 'Does this seem OK?'.
"I admire the fact that she was a 'love-me-or-hate-me' kind of leader who said: 'This is what I stand for.' It's a hard thing to do and no one's doing that now.'
The Blair years have already been subject to more than their fair share of movie treatment in recent years but in 2011 it was Stephen Mangan's turn to take on the role of the former Labour prime minister.
But The Comic Strip Presents team chose to depart entirely from reality and created a 1950s-style fugitive spoof with the former premier portrayed as a murder suspect on the run - quoting sections from Blair's own book A Journey.
'Self-aggrandising melodrama'
The bizarre tale saw Nigel Planer playing Peter Mandelson as a double agent, Gordon Brown as a trigger happy rival ("Typical Gordon, always in a strop," quips Blair as he comes under fire) and Jennifer Saunders playing Margaret Thatcher as Bette Davis circa Whatever Happened to Baby Jane?
Planer suggested that the biographies of Mandelson and Blair suggested they were "all sort of living in this self-aggrandising melodrama". What Mr Blair himself made of it all is unknown.
On stage and screen, fictional politicians found themselves confronted with moral dilemmas that far surpassed the sort of quandaries Westminster's finest usually have to deal with.
The stage adaptation of popular 80s comedy Yes Minister featured Blackberrys, more swearing and a more risque plot in which hapless Prime Minister Jim Hacker heads a coalition government with a wafer-thin majority of two, struggling with an economic crisis and one very dubious choice.
'Trending on Twitter'
An oil-rich state "Kumranistan" appears to offer a solution to his problems - but its foreign secretary wants something in return, for the UK government to procure him an underage prostitute at Chequers. "It's a hell of a dilemma," David Haig - the actor who plays Jim Hacker - told BBC Radio 4.
But even that pales in comparison to the Twitter-fuelled predicament confronting fictional prime minister Michael Callow in the first of Charlie Brooker's three-part TV satire Black Mirror.
It is a dark reflection of the year's rows over celebrity superinjunctions - and what can be reported in the mainstream media when it is already all over the internet.
The tale looks at the power wielded by the internet - as the PM is faced with a ransom demand so obscene the traditional media agree not to discuss it, but the ransom video is already notching up hits on YouTube and the PM is told it is "trending on Twitter".
As the kidnap is played out in the public domain, the PM becomes buffeted by shifting opinion polls and an inexorable pressure builds on him to make a decision.
Brooker has said he was inspired by the superinjunction rows and the pressure on Gordon Brown to apologise to a Labour supporter on the 2010 election trail, after he was overheard referring to her as "bigoted".
It ends a year which has seen one of Britain's biggest stars so involved in politics he's in danger of over-exposure - and politicians, after long years of courting tabloid endorsement, scrambling to put some distance between themselves and the press.