Tory right do not understand EU, says Chris Huhne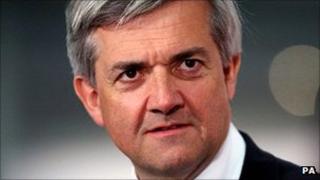 Tory Eurosceptics are pining for a "semi-detached" status for Britain, leaving it with no say in rules about the single market, says Chris Huhne.
The Lib Dem cabinet minister told the Independent he worried some Tories did not "appreciate the importance of being at the table in Brussels".
But Conservative Eurosceptic Bill Cash dismissed the claims as "rubbish".
On Friday, 20 business leaders said Prime Minister David Cameron had been right to veto an EU-wide treaty change.
Mr Cameron's decision to block an EU-wide treaty change affecting all 27 member states, aimed at bringing about closer fiscal union within the eurozone, has been praised by his backbenchers but riled some of his coalition partners.
Direct influence
The prime minister said he could not get the safeguards needed to protect Britain's national interest, including financial services and the single market.
Other EU states are now pursuing a separate agreement aimed at toughening budget rules within the eurozone, without the UK.
Lib Dem Deputy PM Nick Clegg said he was "bitterly disappointed" at the result and believed the prime minister had been put in a difficult position by his backbenchers, a large number of whom had recently rebelled in a Commons vote on an EU referendum.
Energy Secretary Mr Huhne, a former MEP, has now urged Mr Cameron to stand up to his Eurosceptic backbenchers and make the case for Britain engaging in Europe.
"I am worried there is a tendency on the Conservative right wing, a significant part of its parliamentary party, that does not appreciate the importance of being at the table in Brussels when it comes to negotiating the rules for the single market," he told the Independent newspaper.
While the EU needed reforming, he said, it was best to argue for it from a pro-EU position.
"A lot on the Conservative right pine for some semi-detached status where we would be like Norway or Switzerland - enjoying the benefits of the single market without being a member of the EU," he said.
But he argued that would leave the UK without direct influence over key rules and standards under which British firms would have to operate.
'Obstruction to recovery'
However leading Tory Eurosceptic Bill Cash dismissed Mr Huhne's suggestion that MPs like him failed to understand the importance of being involved in EU negotiations.
"He's talking rubbish," he told the BBC. "The manner the EU operates, the centralisation, integration, over-regulation, is creating the failure of growth. They are an obstruction to recovery."
"I'd like Chris Huhne to set out how he thinks we will benefit from Europe. They need us."
Mr Cameron's veto was backed by a series of business people, including Next chief executive Simon Wolfson and Wetherspoon chairman Tim Martin, for being "willing to stand up for an outward-looking and competitive Britain" in a letter to the Financial Times organised by the think tank Open Europe.
They wrote: "One thing is clear. Britain does not want, or intend, to be dragged deeper into a more centralised and over-regulated EU with ambitions to become a political union."
Earlier this week a letter from 20 other business figures, including Sir Richard Branson, appeared in the Daily Telegraph warning against allowing Britain to drift from the heart of Europe and arguing that three million British jobs relied on exports to Europe.
Mr Cameron's veto appeared to have increased tensions with France - where various figures suggested last week that the UK's economy was weaker than France's, which was facing a possible downgrade of its AAA rating.
But French foreign minister Alain Juppe denied there had been a concerted effort to stoke up tensions, telling reporters the comments "went further than their authors wished".
"There is not an ounce of doubt that Franco-British relation, that will become excellent once again as we have too much in common to allow them to deteriorate," he said.
Labour's Europe spokeswoman Emma Reynolds said Mr Huhne's comments showed "David Cameron's reckless decision to walk away from the table risks having a profound impact on the British economy".