We won't repeat Thatcher mistakes, says Danny Alexander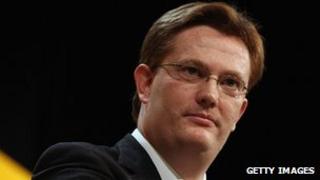 The government will not "repeat the mistakes" made when Margaret Thatcher was in power, Chief Secretary to the Treasury Danny Alexander has promised.
The Lib Dem minister said actions to limit City pay and curb unemployment would differentiate the coalition from the 1980s Conservative government.
He added that the question of whether Baroness Thatcher receives a state funeral would be "properly debated".
But she had done "many good things", Mr Alexander told Sky News.
A film based on Baroness Thatcher's life, starring Meryl Streep, has been released across the UK.
However, the content of The Iron Lady - which includes scenes of the now 86-year-old politician suffering from dementia - has upset many of her supporters.
The film has also led to a widespread reappraisal of her time in office.
'Disconnected'
Mr Alexander, who was a key figure in the Liberal Democrats' decision to form a coalition with the Conservatives in 2010, said: "Margaret Thatcher's legacy is one which looms large over politics today."
He refused to reveal whether his party backed the idea of a state funeral for the longest-serving prime minister of the 20th Century, saying it was "a matter to be considered in due course. I know it is a debate that has been going on."
The government is looking at giving company shareholders a veto over what is deemed to be excessive pay for City executives and is promising to do more to tackle rising rates of joblessness, particularly among young people.
This comes after UK unemployment rose by 128,000 in the three months to October to 2.64 million, the highest level since 1994.
Mr Alexander said: "I think the important thing is in these debates we are having about executive pay... about the economic situation for young unemployed people particularly, is that we don't repeat the mistakes that were made in the 1980s when Margaret Thatcher was prime minister."
But he conceded: "Many good things were done for this country during this time."
Mr Alexander continued: "I think that as a country we are facing a very challenging situation this year and over the course of the next few years where we are having to constrain the actions of a wealthy elite who seem disconnected from that reality.
"We are trying to make sure that young unemployed people are not blighted by long periods of unemployment as they were in the 1980s."