Balls says Tourette's comments by PM were a 'smear'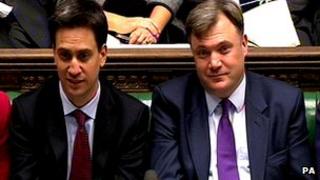 Ed Balls has accused David Cameron of a "smear" after he likened the shadow chancellor's heckling of him in the Commons to "having someone with Tourette's sitting opposite you".
The prime minister subsequently apologised for the "off-the-cuff" remarks, made in a newspaper interview.
But Mr Balls said they were "offensive" to people suffering from the condition.
He told the BBC he would continue to challenge Mr Cameron in Parliament in a "direct, clear and honest" manner.
The prime minister has said he is "annoyed" by Mr Balls' behaviour during the weekly session of Prime Minister's questions.
Mr Balls, who sits next to Labour leader Ed Miliband during the exchanges, has been seen to barrack Mr Cameron and use repeated hand gestures to illustrate the argument that the economy has been "flatlining".
'Not right way'
Mr Cameron told the Sunday Telegraph "the endless, ceaseless banter, it's like having someone with Tourette's permanently sitting opposite you" - remarks he later apologised for.
Asked about his conduct in the Commons, Mr Balls told the BBC Radio 4's World At One that the public "want an opposition that takes the argument to the government".
"Sometimes David Cameron gives the impression that he deserves to be there and nobody deserves to criticise his views and his policies," he said. "He obviously attempts, whether it is women - who he patronises - or me, who he makes offensive comments about."
While he stressed he was not personally offended by the PM's recent remarks - which he did not respond to at the time - Mr Balls suggested they "do offend many people up and down the country suffering from Tourette's".
He added: "I don't think that is the right way to do politics. I think you should debate not about smear but about policy."
Tourette syndrome is a neurological disorder characterised by tics - involuntary, rapid, sudden movements that occur repeatedly.
It can be particularly debilitating because the vocal tics can include the uncontrollable use of obscene language - known as coprolalia - and repetition of phrases the person hears others use - called echolalia.
Mr Cameron has compared prime minister's questions to the "Circus Maximus" and admitted he has failed to live up to his promise - when he became opposition leader in 2005 - to pursue a less confrontational, rather than a "Punch and Judy", style.