MPs 'should run Commons debates for week'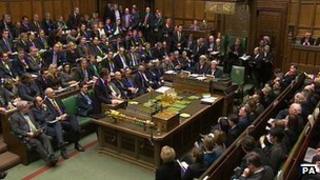 A request for backbench MPs to decide what is debated in the House of Commons for a whole week has been rebuffed by the government.
Conservative MP Philip Hollobone suggested the change, arguing it could make Parliament more "entertaining".
Currently the backbench business committee only gets to choose debates held on allocated dates.
The government said Mr Hollobone's idea was "interesting" but questioned whether it "made sense".
Many MPs have long complained that too much House of Commons time is allocated to getting government legislation through, meaning that they have too little time to raise other important issues.
'Topical issues'
In response to this, the backbench business committee was established in 2010 - meeting once a week to decide what subjects will be debated during time that has not been taken up by ministers.
These can include demands on the government's e-petitions website which gain more than 100,000 signatures. Recent examples of these include limiting fuel duty rises and full disclosure of the events leading to the 1989 Hillsborough disaster.
But Mr Hollobone, the MP for Kettering, told House of Commons leader Sir George Young that the committee should be given more power.
He said the government had "difficulties" in "filling parliamentary time", adding that "the backbench business committee always arranges interesting, entertaining and well-attended debates on topical issues - issues that members and the country want discussed".
Mr Hollobone continued: "Has the leader given any consideration to having a backbench business week, where all the business that week can be determined by that committee?"
To some laughter among backbenchers, Sir George replied: "It's an interesting proposition which the honourable member puts forward.
"What we have tried to do is to step up the number of days that we've made available to the backbench business committee…
"Whether it would make sense to block out a whole week and allocate all of it to the backbench business committee, I'm not so sure."