MP Dromey apologises for breaching Commons rules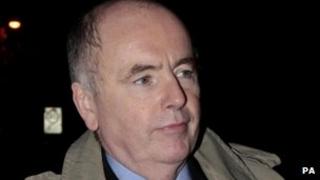 A Labour MP has apologised for breaching Commons rules by not registering payments connected to his former job as a top trade union official, until a year later.
Jack Dromey did not record £27,867 received from Unite between May 2010, when he was elected, and October that year - until October 2011.
He also did not reveal a separate one-off £30,000 payment for seven months.
A Commons committee said the breaches were "serious" but not "intentional".
Mr Dromey, who is married to deputy Labour leader Harriet Harman, was deputy general secretary of Unite before being elected MP for Birmingham Erdington.
Rules breached
The Parliamentary Commissioner for Standards, John Lyon, investigated Mr Dromey's entries in the members' register of financial interests, following a complaint by Conservative MP Andrew Bridgen.
Publishing its analysis of the watchdog's report, the Commons standards and privileges committee concluded that Mr Dromey had breached a number of rules about prompt registration of interests and their declaration in Parliament.
In June 2010, Mr Dromey stated in the register of members' interests that he was leaving his job as deputy general secretary of Unite, following his election as an MP, and had declined his salary in the meantime.
However, he updated the register in October 2011 to state that he had received £27,867 in pay from Unite between the day of his election and 30 October 2010 - when he stopped working for the union.
The committee said Mr Dromey had worked between 10 and 15 hours a week for the union during this period - excluding August when he was on holiday - effectively fulfilling his notice period.
Failing to disclose what he was paid for this work within the recommended four-week period was a "clear and incontrovertible" breach of the rules, it stated.
One-off payment
It also found that the MP had not registered a £30,000 one-off payment from Unite - made in recognition of his long years of service to the union - until July 2011, even though he had received it the previous November.
He also did not disclose his use of a car and phone paid for by Unite between May and September 2010 until the following autumn.
The committee also upheld Mr Bridgen's complaint that Mr Dromey should have declared his connection to Unite before speaking in Parliament on three occasions, when his financial interest was "relevant" to the matters being discussed.
But it rejected a similar complaint about three other interventions made by Mr Dromey in Parliament.
The committee said the breaches were "serious" matters and Mr Dromey should have given a "much higher priority" to updating his entry in the register of interests.
But it said there was no evidence the breaches were intentional and the MP had co-operated fully with the watchdog's inquiry.
Addressing MPs on Thursday, Mr Dromey said: "I failed to update, in time, my initial registration in respect of payments received from my previous employer during the months of June to October 2010.
"This I have now done. I also failed to declare an interest in speaking in two debates on June 16, 2010 and September 16, 2010.
"Notwithstanding that the commissioner and the committee noted that the breaches were unintentional, I want to apologise unreservedly to the House and I will in future fully abide by the rules of the House."
Mr Bridgen welcomed the investigation into Mr Dromey and said; "As a former Labour Party treasurer and with his wife, Harriet Harman, having been an MP since 1983, he should have known he needed to register his union payments."