Conservative MPs urge rethink on Heathrow third runway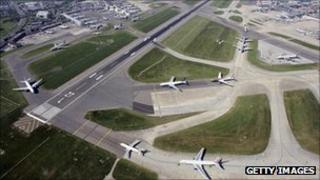 A group of more than 30 Conservative MPs is calling on the government to rethink its decision to rule out a third runway at Heathrow airport.
The Free Enterprise Group says the UK is falling behind other European cities and a new runway is needed at Heathrow, Gatwick or Stansted in the next decade.
It suggests compensating homeowners near Heathrow with up to £40,000.
A consultation on aviation, including a possible new airport in the Thames Estuary, will begin in March.
The group of MPs say they are not opposed to a new airport.
But they argue it will take decades to complete and in the meantime, the UK could be losing £1.2bn a year because of inadequate connections to emerging economies like China and Latin America.
They say, for example, that Paris and Frankfurt have 1,000 more annual flights to the three largest cities in China than Heathrow.
The report also says Heathrow served 227 destinations worldwide in 1990, but that has shrunk to 180, and is forecast to drop to 147.
'Political grandstanding'
Passenger demand for London's airports is forecast to increase from 140 million a year in 2010 to 400 million passengers a year by 2050, according to a previous report by the Greater London Authority.
The Conservative group of MPs say airport expansion is the only viable option to tackle this in the short term and at least one new runway must be built at either Heathrow, Gatwick or Stansted in the next 10 years.
The report, written by Spelthorne MP Kwasi Kwarteng, is backed by 33 other Conservative backbenchers, including Chris Heaton-Harris, Andrea Leadsom, Jesse Norman and Rory Stewart.
It says the decision about which one should be chosen "should be made by the price mechanism and free competition rather than special interests and political grandstanding".
Compensation from the airport operator could be one way of easing the pain, it suggests.
And at Heathrow, where one objection to expansion is that it would require the demolition of hundreds of homes, it says that could be avoided by incorporating the runway at RAF Northolt - about 10km from the airport - and adapting it to take regular commercial aircraft.
"Other airports such as Amsterdam Schiphol have already demonstrated that situating new runways several miles from the control tower is perfectly workable," the report says.
'Heathwick'
A third option suggested by some is a high-speed rail link between Heathrow and Gatwick to combine them into a larger single hub - dubbed Heathwick.
But the MPs say this would only be effective if passengers and their luggage could remain "airside" the whole time - and not have to go in and out of immigration and security - and even then it would only be a partial solution.
Shortly after taking office in 2010, the coalition scrapped plans put in place by the previous government for a third runway at Heathrow.
It also ruled out any additional runways at Gatwick and Stansted.
The decision followed widespread opposition from councils, residents and green groups. The Conservatives and Lib Dems had both opposed the plan in opposition, preferring improved rail links instead.
The consultation on UK aviation policy in March will consider whether a new airport, partially built on reclaimed land in the Thames Estuary, could be feasible. That too, however, is strongly opposed by environmental groups and local councils.
Transport Secretary Justine Greening said in October she would not reconsider a third runway at Heathrow, and Labour has also said it is "off the agenda".