Vince Cable visits Northern Ireland companies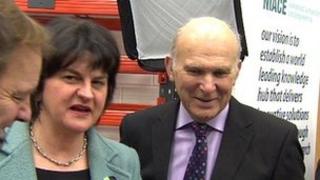 Business Secretary Vince Cable has been visiting companies in Northern Ireland on Tuesday.
It is Mr Cable's first visit to Northern Ireland as business secretary.
He opened a new research facility in east Belfast - the Northern Ireland Advanced Composites Centre (NIACE).
Mr Cable also visited Andor Technology, aircraft manufacturer Bombardier and get a tour of shipbuilder Harland and Wolff.
Speaking ahead of the visit, Mr Cable said: "Some people say the UK doesn't make anything any more.
"Yet the companies I'm visiting in Belfast show this couldn't be further from the truth.
"The opening of NIACE is welcome as it demonstrates our ideas and innovations are being turned into new products and jobs.
"This centre will work with universities and businesses based in Northern Ireland and across the UK, to develop and commercialise new technologies."
At Andor Technology, Mr Cable toured the production floor to see engineers working on high-spec cameras used for medical and research purposes.
He then visited Bombardier's new CSeries wing factory, where the UK government and Northern Ireland Executive is investing a total of £135m in the form of repayable launch funding and grants.
He met apprentices and school children from the company's Educational Outreach and saw the wing test facility in operation.
Mr Cable also attended a meeting with shipping firm Harland and Wolff before touring the site.
Mr Cable was accompanied by Northern Ireland Minister Hugo Swire.
During the visit to NIACE, he told the BBC there was no demand in Northern Ireland for a referendum, despite Scotland's proposed vote on independence.
Mr Cable said politicians in NI were more interested in working for economic prosperity than in changing the constitutional arrangements.