David Miliband: My brother is best man to lead Labour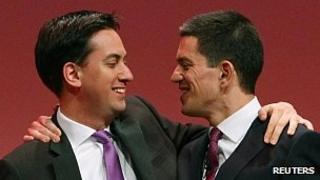 David Miliband has said his brother Ed will lead Labour into the next election and is the "best man" to do so.
The former foreign secretary told the BBC that the Labour leader was willing to confront the "big and difficult arguments" facing the country.
On his own future, Mr Miliband said it had been right to take a "step back" and focus on "grass roots" politics.
But he said he had not taken a "trappist vow" and would continue to speak out on issues that concerned him.
The former cabinet minister is spearheading a new initiative to tackle youth unemployment which he says has reached "emergency" proportions in parts of the country.
Mr Miliband has taken a back seat since being defeated in the 2010 Labour leadership contest, opting not to join his brother's shadow cabinet.
But he has assumed a higher profile in recent weeks, warning his party in a recent magazine article that it needs to challenge its assumptions about the role of the state in delivering policy, rethink its policies in areas such as education, health and crime and not spend its time simply "reassuring" its supporters.
'Soap opera'
Mr Miliband told the BBC it had been right for him "to step back" from frontline politics to avoid "the daily soap opera" that may have resulted from him working alongside his brother.
But he said this did not mean he could not make a contribution from the backbenches or that he had taken a vow of silence.
"I didn't stop thinking," he BBC told Radio 4's Today programme. "I didn't stop caring about the issues that matter to me."
"I have spent 18 months out Westminster trying to help Labour at the grass roots, trying to engage on some of these big issues facing the country and the party."
Ed Miliband continues to face questions about his leadership amid poor poll ratings and questions about economic credibility, but David Miliband said he was the right man to take Labour into the next election - scheduled for 2015.
"I think what Ed has shown in the last 18 months is a willingness to engage with those big and difficult arguments that the country desperately needs," he said.
"I want him to win the election and become prime minister because he is my brother, because he is the leader of my party and because I think he can make a big difference for the country.
"I am happy to say he is the best man to lead Labour into the next election. He will lead Labour in the next election."
Mr Miliband said he had lost the leadership election and had "no interest" in re-fighting that contest.
"The only election I care about is the general election, under Ed's leadership, which Labour needs to win for the good of the country," he added.
Unemployment hotspots
Mr Miliband is leading a new initiative to deal with youth unemployment, which the Labour MP says has risen by 200% in his South Shields constituency in the past year.
The Commission on Youth Employment - which he chairs - says "radical and immediate action" is needed on the issue - particularly in what it says are 600 hotspots where jobless levels are much higher than the national average.
Mr Miliband said unemployment had a scarring effect on young people - hindering their job prospects and earning potential in later life and costing the taxpayers billions of pounds.
While the recession meant there was a lack of jobs available, Mr Miliband said there was a deeper problem in the UK.
"Even in the good times, in 2004 when the economy seemed to be booming, there were 900,000 youngsters who were not in education, employment or training - half of them for over a year. So what I always say is the current government did not invent this problem but it has become much worse in the last 18 months."
The Commission is calling on the government to double the number of subsidised job places available through its "youth contract" scheme, guarantee part-time jobs for those out of work for a year and create youth unemployment zones to focus resources.
"Government has to do better," he added. "Employers have to do better... we need the public sector to do a much better job."