BBC axes Budget Day political broadcasts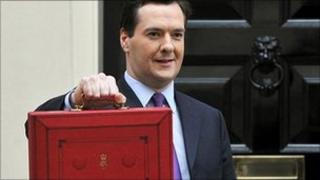 Budget Day political broadcasts have been axed, under new BBC rules.
The broadcasts by the government and official opposition on Budget Day began when TV and radio could not broadcast from the Commons, says the BBC.
But larger parties will be given more flexibility on when they can schedule party political broadcasts (PPBs) in England, Scotland and Wales.
Rather than being tied to key political events, they will get three "seasonal" broadcasts during the year.
Effectively they could choose to schedule one of their PPBs on Budget Day, subject to scheduling and any pending elections.
PPBs are separate from party election broadcasts - held during election periods.
Parties which can demonstrate sufficient backing - in terms of seats held and vote share in the relevant nation - have been offered PPBs at certain times of the year, tied to political events like the Queen's Speech and party conferences.
Under new rules confirmed by the BBC Trust, parties in England, Scotland and Wales will instead be offered three "seasonal" broadcasts in spring, autumn and winter - something the BBC says will give them more flexibility. It means also UK-wide parties can choose to tailor one of their broadcasts to a specific nation if they want to.
But a proposal to double the number of PBRs that parties in Northern Ireland could get - from one to two a year - were dropped, amid concerns that some parties could be disadvantaged, because of the cost of the broadcasts. Of 17 responses to the BBC Trust's consultation - three were from parties in Northern Ireland.
The BBC is also sticking to its criteria for determining which parties get PPBs - despite some arguing the bar was set too high - saying the combination of requiring more than one seat to be held and "substantial" levels of electoral support amounted to "proportionate criteria".
The Trust ruled that, on the issue of Budget Day broadcasts, viewers could now "see and hear the Budget and the Budget debate from the House of Commons on various formats" which gave the parties a chance to "communicate their views".
It had argued that the broadcasts had originated from a time when it was the only way the chancellor could directly address the public about what was in the Budget.
"Now the audience has the opportunity to watch and listen to the chancellor live in the House of Commons, or to catch up on iPlayer, or to see and hear the key points across many different outlets," the Trust said.