Bonuses row: Osborne promises to fight 'anti-business culture'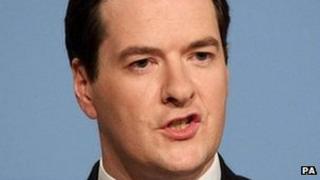 George Osborne has promised to fight an "anti-business culture", warning that the row over bonuses and pay threatens to undermine jobs and prosperity.
MPs have been debating a demand by Labour for "excessive" rewards for City executives to be reduced.
But the chancellor said "rewards for success" should be maintained.
RBS chief Stephen Hester told the BBC he understood the controversy about bankers' pay but added: "Let's not demonise the whole industry."
Last week, the Royal Bank of Scotland chief executive gave up a share-only bonus worth nearly £1m amid public outcry.
This followed the announcement that the bank - of which 82% is owned by taxpayers - was laying off 3,500 staff around the world.
On Monday, Sir David Higgins, the chief executive of Network Rail, said he would turn down a bonus of up to £340,000, which would have been awarded, despite the company failing to meet some performance targets.
'Trust'
In the Labour-led debate in the Commons, shadow business secretary Chuka Umunna dismissed suggestions his party was being "anti-business".
He said: "The public rightly expects that the culture of excessive bonuses must stop. That means bank executives' remunerations - stated to be 'performance-related' - should be just that, related to performance.
"Very large bonuses should only be paid to reflect genuine exceptional performance if trust in the system is to be maintained."
But MPs rejected Labour's call for a new "bankers' bonus" tax to be introduced by 244 votes to 295, a margin of 51.
In a speech in London to the Federation of Small Businesses, the chancellor said: "Of course we need to reform our banking system and nobody has done more than this government to address the too-big-to-fail problem that so offends every taxpayer.
"Of course rewards for failure are unacceptable - and those who believe in the free market are the first to say so.
"But a strong, free market economy must be built on rewards for success.
"There are those who are trying to create an anti-business culture in Britain - and we have to stop them. At stake are not pay packages for a few but jobs and prosperity for the many."
'Essential job'
In a letter to RBS staff, Mr Hester said press coverage of his bonus had been "discomforting to say the least", but insisted the bank was "making progress in the face of a difficult inheritance".
Asked how the political row over his bonus had affected him, he told BBC Radio 4's Today programme: "I'm certainly not a robot and there have been some deeply depressing moments - by the way not just now - over the last three years.
"I guess in the end, in the intensity of it, I came to the conclusion that I thought it would be actually indulgent for me to resign and that what I ought to do is draw on the reserves of strength I have and try to make RBS a success."
Asked if he had considered resigning but decided it was the wrong thing to do, he added: "That's right."
He said he understood the controversy about bankers' pay, particularly at a time of austerity, and said that, during 20 years of "unbridled expansion" in the industry "hubris sets in" - which was painful to correct.
But he said bankers were not the only ones to make mistakes during the boom - there had been mistakes in economic management around the world: "Let's not demonise a whole industry.
"Let's not demonise something that is fundamental to the world economy, which employs millions of people even today. There are millions of people doing a good job, an essential job. We need to correct the areas where that job was done poorly. But we shouldn't forget banking is important, financial services are important, it supports the economy."