Ed Miliband: Bonus row 'is not anti-business'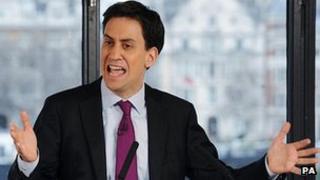 Ed Miliband has hit back at the chancellor's warning that a row over bank pay and bonuses threatens to create an "anti-business culture".
In a speech the Labour leader said it was "pro-business" to demand responsibility at the top.
And he accused the government of acting "haphazardly and belatedly" on the bonuses row.
RBS chief Stephen Hester and Network Rail boss Sir David Higgins turned down bonuses amid political pressure.
Mr Hester's decision to waive his £963,000 shares-only payment came after Labour said it would force a vote on the issue.
Transport Secretary Justine Greening had threatened to vote against the Network Rail bonuses at the company's annual general meeting.
'Unreformed' culture
The government had said it could not block the payments itself - despite owning 82% of RBS shares and subsidising Network Rail to the tune of £4bn a year - but welcomed the decisions by Mr Hester and Network Rail chiefs to waive them.
But on Tuesday, the day of a Labour-led debate in the Commons on the bonus culture, Chancellor George Osborne gave a speech to the Federation of Small Businesses saying: "There are those who are trying to create an anti-business culture in Britain - and we have to stop them.
"At stake are not pay packages for a few but jobs and prosperity for the many."
Mr Miliband, who led calls to stop Mr Hester getting his bonus and to get his predecessor at RBS Fred Goodwin stripped of his knighthood, accused Mr Osborne and Prime Minister David Cameron of "defending an unreformed bonus culture" and being "wedded to an old set of rules".
"[The chancellor] says that action to tackle big bonuses is 'anti-business'. It is not.
"It is pro-business to demand responsibility at the top and an end to the something-for-nothing culture which has damaged our economy in the financial crisis at every level, wrecked businesses and left everyone else squeezed," Mr Miliband said in his speech at Sheffield University.
"Tackling excessive executive pay and bonuses is not an end in itself but a necessary first step towards a bigger change in our economy in which people get fair rewards for their contribution at every level of society. In short, an economy which works for the squeezed middle is an economy which works."