Network Rail bonus remuneration chief 'facing calls to quit'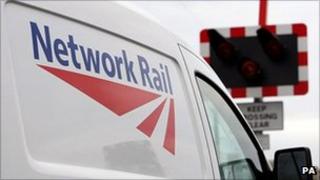 The chair of the committee which rules on Network Rail's pay and bonuses is facing calls to stand down.
Some of Network Rail's public members, who hold the board to account, have told the BBC they will support Steve Russell's removal on Friday.
It follows a political row over bonuses at the taxpayer-subsidised company.
A meeting on Friday originally intended to discuss its incentive scheme will go ahead, despite six bosses' decision to forgo bonuses amid political pressure.
Lord Berkeley is one of Network Rail's public members - who perform a similar role to shareholders in public limited companies.
BBC political correspondent Tim Reid says the Labour peer will be "critical" of the board and the company's directors and will support calls for Mr Russell to step down as chairman of the remuneration committee.
New face
Another member has told the BBC he will also support the move. At any one time Network Rail has about 100 public and industry members.
Transport Secretary Justine Greening, another member of Network Rail, had planned to attend Friday's meeting to vote against bonus payments, before six senior executives agreed to give up their bonuses on Monday.
It had been thought the meeting would be postponed but there was not enough time, under company rules, to cancel it. Network Rail said it was only going ahead to allow members to adjourn it.
It is believed Chief Executive, Sir David Higgins has been made aware that some members want a "new face" to chair the committee because of unhappiness at the way the bonus situation has been handled by the company.
Sir David announced on Monday he would turn down a bonus of up to £340,000, which would have been awarded, despite the company failing to meet some performance targets.
Network Rail was set up in 2002, as a replacement for Railtrack. It owns and operates the UK's rail infrastructure, receives £4bn of taxpayer funding a year and is guaranteed by the government.