Voter 'opt out' may still go ahead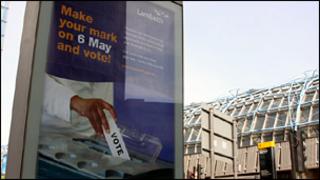 A controversial proposal to let people "opt out" of being on the electoral register may still go ahead, despite suggestions it would be ditched.
There are concerns that allowing people to opt out in a particular year could lead to a drop in registered voters.
The government said it was "minded" to retain the opt-out, with extra safeguards, or drop it altogether.
Critics said ministers were "confused" about the proposal, which should not be allowed to "sneak in" to legislation.
The proposal is part of plans to change the way people register to vote - so that in future all voters are responsible for registering themselves.
Concerns have been raised by the Electoral Commission that allowing people to request that they not go on the register on a temporary basis could see the amount of eligible voters listed on the electoral register drop from 90% to 60% - reflecting the numbers who actually go on to vote.
'Sympathy'
Others have suggested people might want to stay off the register for other reasons - like avoiding jury service, or junk mail.
Deputy Prime Minister Nick Clegg told MPs in October that he had "sympathy" with concerns expressed about the opt-out, adding: "I am minded to change these provisions when we bring forward the final legislation."
But in a written ministerial statement published on Thursday, Minister Mark Harper said the government had "taken into account the concerns raised".
"As we made clear last year, we are minded to amend this provision and intend either to retain the 'opt-out' but require a person wishing to do so to complete a separate application, or to entirely remove this option altogether."
He also said the government was not persuaded that it should be made a criminal offence not to register to vote - because there was not enough evidence it would boost the electoral roll and it was felt to be wrong to use it as a "threat... to promote greater engagement in the electoral process".
Instead it says it is still considering whether to fine people instead if they do not respond to a request to register.
Government 'confused'
Mr Harper also said a planned 2013 household canvass would be delayed to early 2014 - to try to ensure the electoral register is as up-to-date as possible when the new system of individual voter registration comes in.
The government says it is still in the "listening phase" and is working with interested bodies before publishing the final legislation.
But the Electoral Commission said, while it backed the move to individual voter registration, many "key decisions" were yet to be taken.
its chairwoman, Jenny Watson, said: "In particular, we need confirmation that there will be no opt out, the gap between the canvass in spring 2014 and the individual write-out needs to be as short as possible.
"Time is short if the government's target date of 2015 is to be achieved."
And Katie Ghose, of the Electoral Reform Society, said: "It is concerning that the government remains confused about its position on the opt-out... There is no excuse for the opt-out sneaking into the new legislation."
Labour has said that millions of people could "fall off" the register under the government's plans.
Currently the head of the household is responsible for listing all eligible voters in England, Scotland and Wales and ID is not required - a system which many have long argued is open to fraud.
Under Labour there were plans to introduce individual voter registration in Britain from 2015 at the earliest but the coalition now plans to bring it forward to 2014 for new voters - which it says will save £74m.
Northern Ireland introduced individual registration in 2002.