Network Rail dismisses calls for bonus chief to quit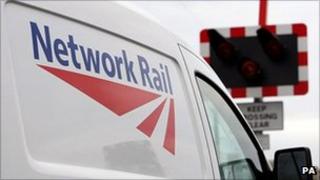 Network Rail has dismissed calls for the chairman of its remuneration committee to step down following the controversy over executive bonuses.
At a board meeting, some of the company's public members urged the company to appoint a "fresh face".
It follows a political row over bonuses at the taxpayer-subsidised company.
The members were unhappy at how the bonus issue was handled. Network Rail said the committee remained as it was with Steve Russell as boss.
Last week the company's executives announced they would not take bonuses worth as much as 60% of their salary.
'Pretty clear'
One of the members who attended Friday's meeting, David Pemberton, told BBC News: "The phrase that was used was that Steve Russell had 'done a good job' and would see it through to the end.
"The chairman and chief executive and Mr Russell sat side-by-side.
"It was pretty clear that they wanted him to stay to do the job. And Steve Russell said that he was determined to see this through."
Network Rail refused to comment on discussions inside the meeting. A spokesman said they "were not part of the formal business".
Originally the meeting had been scheduled to consider a new bonus scheme but those discussions have been postponed to a later date which has not yet been decided.
Network Rail was set up in 2002 as a replacement for Railtrack. It owns and operates the UK's rail infrastructure, receives £4bn of taxpayer funding a year and is guaranteed by the government.