Civil Service job cuts 'help Whitehall save £5bn'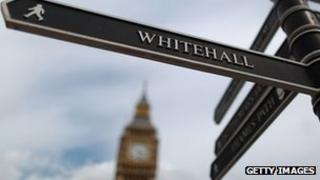 Some 43,000 Civil Service job cuts have contributed to government savings of £5bn in the past 12 months, Cabinet Office Minister Francis Maude has said.
As well as redundancies, travel expenses have been reduced and better deals secured with Whitehall contractors, he said.
Mr Maude said he knew "change on this scale would not always be easy or popular but it was necessary".
Unions and Labour have criticised the scale of public sector losses.
They say government promises that private sector employment would grow to compensate have not proved to be accurate.
And they insist savings are only being made by making significant cuts to valued public services.
'No turning back'
The Cabinet Office said the savings since April 2011 included:
£130m from renegotiating or scrapping expensive property leases, resulting in a reduction in the size of the government's estate of 4,484,212 sq ft (416,597 sq m)
£1.1bn from cutting spending on consultants and agency staff
£140m from squeezing computer and technology budgets
The latest savings come on top of a reported £3.75bn which the government said was clawed back between May 2010 and March 2011.
Mr Maude said: "It was never our goal just to save money in year one and move on.
"There can and will be no turning back in the ongoing hunt to root out waste in Whitehall and cut costs to protect front-line services."
A Cabinet Office spokeswoman said Civil Service staff levels now stood at 444,000 - the lowest since World War II.
"This has been achieved through a combination of people leaving and not being replaced and those taking redundancy," she added.
According to the Institute of Government, by September 2011, the Home Office had cut its core civil service staff by 17.6% and the Department for Communities and Local Government by 19.8%.
The Department for Business, Innovation and Skills had reduced its core staff by 15.7%.
Mr Maude defended the cuts, saying: "We always knew that change on this scale would not always be easy or popular, but it was necessary and I believe today's figures will show once and for all that the sceptics were wrong."