UKIP peer's 'Auschwitz jibe' attacked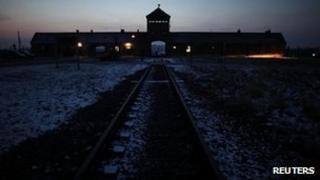 A UK Independence Party peer has compared German economic policy to a slogan used on the gates of the Nazi concentration camp at Auschwitz.
Lord Willoughby said the country's "remedy" in Greece was "austerity macht frei" - echoing the German phrase "arbeit macht frei", which means "work sets you free".
Liberal Democrat Lord Teverson called the the remark "offensive".
The exchange took place in a House of Lords debate on Europe.
'Inappropriate'
Lord Willoughby told peers: "Europe has been turned into a weapon of mass economic destruction.
"What is the remedy (to Greece's problems) prescribed by the EU leeches? Take more blood. More wage cuts. More unemployment. Lower pensions.
"Austerity macht frei. That seems to be the remedy prescribed by the Germans to Greece, certainly, and the rest of the Club Med when they are unable to meet the German requisites. They cannot turn themselves into Germans."
But Lord Teverson intervened to say he found the remark "offensive", because it "likened German economic policy, however wrong it might be, to a camp that practised genocide, (and) is utterly inappropriate".
Lord Willoughby replied: "I'm sorry you take it like that. But the fact is the German finance minister is recommending more and more pain to be inflicted on Greece, regardless of the fact it's doing the Greek population and economy no good at all.
"That is what austerity is leading to and that is why I use that expression. He is saying more austerity will bring you free, austerity macht frei. I repeat that."
It is estimated that more than one million people - mostly Jews - were killed at the Nazi death camp at Auschwitz-Birkenai, in Poland.
Large numbers of disabled people, non-Jewish Poles, Roma, Soviet prisoners of war and homosexuals were also murdered.