Labour's Rachel Reeves targets 'wasteful' government spending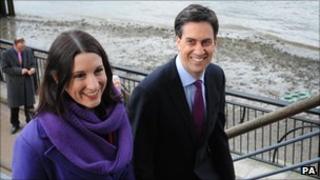 The government has played down claims of wasteful departmental spending of taxpayers' money on make-up and music.
In a speech on Tuesday the shadow chief secretary to the treasury, Rachel Reeves, accused the Ministry of Justice of splashing out £900 on cosmetics.
But the MoJ said this was prisoners' own money spent on Avon products.
She also said the Ministry of Defence paid £69,000 for music - the MoD said this covered costs accrued by military bands or armed forces schools.
Addressing the Institute for Public Policy Research think-tank, Ms Reeves attacked the government over borrowing.
Because rising unemployment and a stagnant economy meant spending was higher and tax revenues lower, the chancellor George Osborne was on course to borrow £158bn more than planned - a damning indictment of his failed experiment, she said.
"When resources are so constrained, we must also be absolutely ruthless in demanding maximum value for taxpayers' money - unlike this Conservative-led government, which seems to care so little about public services that it is shockingly casual and complacent about wasting scarce resources," she told the audience in central London.
She also highlighted the "false economies of rushed redundancy programmes", saying £90m was paid to departing civil servants in the last quarter, at the same time as £30m went on temporary and agency staff to fill the gaps.
Other "incredible sums ploughed into pet policy projects", she said, included:
more than £100m on installing elected police commissioners - money that could have paid for 3,000 new police constables
and £1.8bn set aside for the NHS reorganisation - less than half of which would keep 6,000 nurses in post for three years
She argued that every department should be checking public expenditure was going to protect the living standards of struggling families, prioritises employment, productivity and long-term growth, and was value for money.
Ms Reeves, appointed to her new post in a reshuffle last October, said she was now working with Labour leader Ed Miliband and shadow Chancellor Ed Balls to identify wasteful spending and possible savings, and how to switch spending from lower to higher priority areas.
"We've warned that further tough choices will be needed to clear up Osborne's mess and finish the job of deficit reduction in the next Parliament," she said.
Labour would ensure the "heaviest burden of fiscal consolidation is borne by those with the broadest shoulders, not those already struggling to make ends meet", she added.
On Friday, Cabinet Office Minister Francis Maude said there was an ongoing hunt to root out waste in Whitehall and he expected to make efficiency savings of £5bn by the end of this financial year.
The Conservative and Liberal Democrat coalition government say they are eliminating wasteful spending under the last Labour government, which they say left the UK in an "economic mess".