Cameron urges France and Germany to join EU growth 'drive'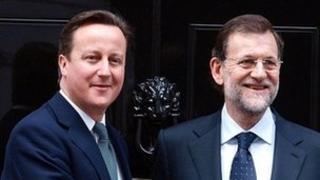 David Cameron has urged France and Germany to back the "drive" to improve economic growth in the European Union.
The UK prime minister has joined 10 of his EU counterparts in signing a letter calling for "bold decisions", including opening up labour markets and extending trade with the US, China and Russia.
But France and Germany are not among the signatories, which include Italy, Spain, Ireland and Poland.
Mr Cameron said he was "completely open" to other nations joining in.
The coalition government's relations with Paris and Berlin appeared strained in December when Mr Cameron vetoed an EU-wide treaty change aimed at creating greater fiscal integration, in the wake of the Greek debt crisis.
He has since said he will, however, not block the use of EU institutions by a new eurozone fiscal pact, leading to criticism from Eurosceptic Conservative MPs.
'Strong coalition'
The open letter, jointly drafted by the UK and the Netherlands, says Europe is in a "crisis of growth" and that leaders must work to "restore confidence in Europe's ability to grow strongly and sustainably in the future and to maintain its share of global prosperity".
Ahead of another EU summit next week, Mr Cameron held talks in Downing Street with the Spanish Prime Minister, Mariano Rajoy.
At a joint press conference, Mr Cameron said: "It's completely open for the French and Germans to support this letter."
He said: "A very strong coalition of countries are behind growth. The more people that support it, the more we will be able to drive that opinion through the European Council."
Mr Rajoy said: "I signed the letter because I thought it was a good letter. It brought up structural reforms which we need."
The other signatories were the prime ministers of Estonia, Latvia, Finland, the Czech Republic, Slovakia and Sweden.
The letter calls for the European single market to be extended to the service sector, for the creation of a truly digital single market by 2015 and the guarantee of a genuine internal market in energy by 2014.
It also urges the EU to establish a European research area to boost innovation and free trade agreements with India, Canada and members of the Asean bloc of south-eastern Asian countries, including Indonesia, Thailand and Singapore.
In addition, the letter demands a "robust, dynamic and competitive" financial services sector while reducing implicit guarantees that banks that fail will always be rescued.
Meanwhile, on Tuesday it also emerged that the UK had joined Dutch and Swedish counterparts in refusing to sign off the European Union's accounts.
It is the first time the UK has withheld its vote of approval, but the act is symbolic - the annual procedure to "discharge" the budget does not affect the actual accounts or sums already spent in the relevant year.