Minister David Jones gives up Twitter for Lent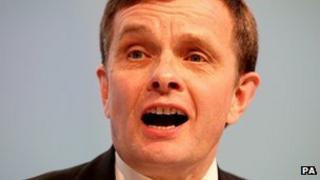 Chocolate, alcohol and cigarettes: they are all on the list of naughty luxuries people give up at this time of year.
But Conservative minister David Jones has found a new form of abstinence to carry on through Lent. He has decided to take time off of Twitter.
Mr Jones, MP for Clwyd West, insists he has posted a "last tweet until Easter".
But speculation on the likelihood of success is rife, and one disgruntled follower even argued that all politicians should "give it up".
Twitter, the social networking website used by more than 300 million people worldwide, has mushroomed at Westminster.
More than half of MPs now have accounts.
'Stillness'
However, Mr Jones, who informs more than 3,000 followers of his daily exploits as a Wales Office minister, says he will not be using Twitter for the next 40 days.
He has now signed off.
One of his last tweets before a spell in the internet wilderness reads: "Early start in Cardiff; last day of tweeting for at least a few weeks."
Some followers have offered encouragement, with one tweeting: "I also feel a bit more stillness is sometimes needed, particularly at this time of year."
Another offers: "If it's any help, I'm giving up vino too - with three pre-planned lapses. Remember you're exempt on Sundays!"
There are no reports of any other MPs planning to go "cold turkey" on the social networking site.