Commons seeking cheaper fig tree deal for Portcullis House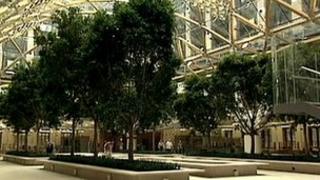 The Commons authorities are investigating "alternative funding arrangements" for 12 fig trees in Portcullis House, the BBC understands.
The trees have cost the taxpayer nearly £400,000 to maintain over the 12 years since the building housing MPs' offices was opened, it emerged last week.
Parliamentary sources suggest it is unlikely the trees will go, but a cheaper contract would be sought.
Speaker John Bercow said he was "horrified" to discover the costs.
Parliamentary sources say the House of Commons Commission, chaired by the Speaker, met on Monday night and asked the Commons Facilities Committee to seek "alternative funding arrangements" - Westminster speak for a cheaper contract.
The speakertold the House magazinelast week that the contract costing £30,000 a year for the plants - in the atrium of Portcullis House - had been in place since 2001 and should be renegotiated.
The public would think they were being "fleeced", he said, and that MPs were living in a "another universe".
Portcullis House has been home to MPs' offices and committee rooms since 2001.
The fig plants are used to provide shade in the atrium of the building, which MPs use to hold meetings with constituents and other visitors.
The cost of the trees' rental was publicised earlier this month following a Freedom of Information request submitted by the Taxpayers' Alliance pressure group.