Eurozone fiscal pact tears up rules, say Conservative MPs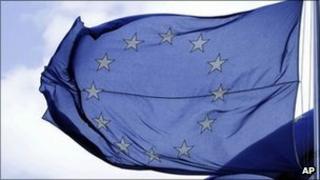 Conservative MPs have accused EU leaders of having "torn up the rulebook" in efforts to create a treaty to tighten eurozone budget rules.
A succession of backbenchers questioned whether the fiscal treaty, agreed by 25 of the 27 EU states, was legal.
Eurosceptic Bill Cash queried whether it should be allowed to use EU bodies like the European Commission.
The government said it was "ready to act" if EU institutions were used in a way that "harms our national interest".
The Commons debate, secured by Conservative MP Mr Cash, who is chairman of the European Scrutiny Committee, comes ahead of a two-day meeting of European leaders in Brussels which will be attended by David Cameron.
In December the prime minister vetoed an EU-wide treaty change, arguing he had not been given sufficient safeguards for the UK.
Instead other EU countries agreed to set up an inter-governmental agreement which aims to restore confidence in the euro through tighter budget co-ordination between eurozone countries.
'Political reasons'
The Czech Republic has also since refused to join the "fiscal pact" and Ireland, which has agreed to the deal, said on Tuesday it would have to hold a referendum to ratify it.
Mr Cash argued in the Commons that "political reasons" for the pact, drawn up in response to the eurozone debt crisis, had overridden the law.
The agreement empowers the European Court of Justice to monitor compliance and impose fines on rule-breakers and enhances the European Commission's role in scrutinising national budgets.
Mr Cash questioned whether it was legal for the institutions of the whole EU to be involved at all and accused European leaders of seeking "more Europe, not less" as a solution to the crisis.
And he argued that the rule of law was "inseparable from democracy" but said the EU was forcing unelected leaders on countries like Italy and Greece, where politicians had stood down to be replaced by technocrats, "in the pursuit of ideology".
His Conservative colleague James Clappison said it appeared the EU had "just decided to ignore proper legal procedure and gone its own way".
He added: "It's looked at the rule book, the rule book wasn't convenient for it, so it's torn up the rule book and drawn up a new set of rules. And the way in which it may act within those new set of rules could have very substantial implications for our country."
'Missing the point'
Another Conservative, Jacob Rees-Mogg, said it was "quite shocking" that EU states wanted to go ahead with the treaty "without even bothering to go through the proper forms to ensure that treaty is lawful under EU law".
But Liberal Democrat MP Martin Horwood told Mr Cash he had "missed the point on a colossal, almost historic, scale".
He said: "There are questions of legality and politics around this treaty but they are dwarfed by the really big issue, which is the future of the European economy. This treaty is a sincere and concerted attempt to make that future stronger, safer and more prosperous."
He criticised a "Eurosceptic obsession with seeing conspiracies everywhere trying to undermine British sovereignty".
Labour's Emma Reynolds questioned whether Mr Cameron had vetoed a treaty at all - as his "fighting talk" in December had since unravelled, as the government was poised to allow those states which signed the pact to use EU institutions.
She said: "One by one the government's guarantees faded into yesterday's headlines and their empty rhetoric was painfully exposed."
Europe Minister David Lidington said Mr Cameron's actions had ensured that the pact was a "treaty outside the European Union" which made clear that "the EU treaties and their rules have primacy".
However he said there were some bits of the pact that "give us some serious concern", relating to tasks given to the commission and court of justice.
Mr Lidington said Britain was "vigilant and ready to act, including taking legal action in the European Court of Justice if we believe that the EU institutions are being used in a way contrary to the provisions of the EU treaties and that harms our national interest".
He added that "reserving our position means that we might at some stage in the future wish to go down the path of legal action" but he did not want to say more about it at this stage.