Nick Clegg defends European Arrest Warrant, after Tory criticism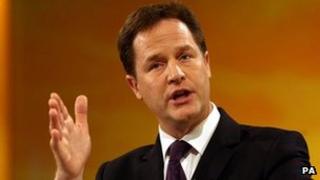 Nick Clegg has argued that the European Arrest Warrant - a cross-border crime-fighting agreement heavily criticised by many Conservatives - "is indispensable" to the UK.
The deputy prime minister said co-operation was the "only means" of tackling drugs, smuggling and gangs.
But Mr Clegg, who is also Lib Dem leader, acknowledged the warrant had also been used in "trivial cases".
Tory MP Richard Drax has described it as a "judicial mess".
The European Arrest Warrant - introduced in 2004 - states EU members must hand over people wanted in other EU countries with a "minimum of formalities", in an effort to speed up extradition.
Opponents - including many Conservative MPs - say this is creating injustice, by forcing people to be moved around and allowing them to be detained for long periods before trial.
Speaking in the Dutch city of The Hague - home of the International Criminal Court - Mr Clegg insisted warrants had speeded up and streamlined justice for serious criminals.
He said: "The principle remains: crime crosses borders; crime-fighting must too."
He argue that co-operation between countries was "the only means of dealing with drugs, human trafficking, money-laundering, criminal gangs - the serious, organised crime that represents a growing threat to our societies that, overall, costs the UK up to an estimated £40bn a year".
The deputy prime minister said the warrant had "helped serve justice" on a failed London bomber caught in Italy, a German serial killer tracked down in Spain and a gang of armed robbers arrested in six different EU states.
However, he acknowledged some problems, adding that "there are instances of it being used in trivial cases and we need to look at how we prevent that so that use is always proportionate and citizens can have confidence in the system".
Official statistics show 581 suspects were brought back to face trial in the UK under the European Arrest Warrant between its introduction in 2004 and March 2011, with numbers rising from 19 in 2004 to 116 in 2010.
Mr Clegg said their development had been "simply about keeping people safe".
But Shami Chakrabarti, director of the human rights pressure group Liberty, said: "The deputy prime minister is right about the importance of criminal justice co-operation, but the European Arrest Warrant provides instant extradition without harmonising protections across the EU.
"No one should be taken from their home, family, language and legal system to face months or years awaiting trial in a foreign jail without a basic case being tested in a local court.
"People are not parcels of meat to be sent off around the world. A little discretion and compassion needs to be brought back."