English Democrats: England's voice must be heard, says Tilbrook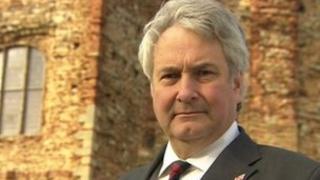 England's voice must be "properly heard" if Scotland votes for independence, the leader of the English Democrats has said.
Ahead of the party's spring conference in Kent on Saturday, Robin Tilbrook told the BBC the biggest parties were unwilling to address the issue.
The party will launch its local elections campaign at the conference.
Mr Tilbrook, who is standing for London mayor in May, said other parties were "not interested in England".
The English Democrats say they have about 3,000 members and Mr Tilbrook has said the party has a "big task ahead" to raise the £10,000 deposit, and 330 signatures - 10 from each borough and from the City of London - required to stand as mayor in London.
The party also plans to stand candidates for mayoral elections in Liverpool and Salford and in local elections in England. They are also campaigning for a "yes" vote in referendums in 12 English cities on whether they want directly-elected mayors.
Ahead of the conference, Mr Tilbrook told the BBC: "The political parties are not willing to mention the word England.
"You have only got to look at the fact that none of them came up with even a manifesto for England. They are quite happy to have a manifesto for Scotland, a manifesto for Wales and then they have a UK manifesto."
He said politicians were happy to talk about "our country" or the "United Kingdom" - even when they were referring to policies that applied to England only, like the NHS shake-up or university tuition fees.
"In the discussions that occur after the SNP have their referendum, if the vote is as we expect it may well be, in favour of independence, then obviously English interests have got to be taken into account."
He said the Acts of Union had joined the two kingdoms: "If the kingdom of Scotland goes, the UK has gone and at that point, we have got to have England's voice properly heard."
The English Democrats currently have one elected mayor - Peter Davies in Doncaster - one county councillor and five district councillors.