Coalition slowing human rights reform, says Cameron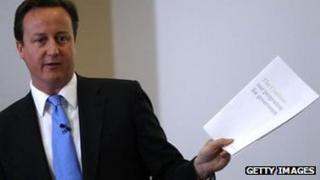 David Cameron has said he would be moving "quite a lot faster" on the creation of a UK Bill of Rights if he was not in a coalition government.
The Conservative 2010 general election manifesto pledged to scrap the Human Rights Act and replace it with a bill.
But the Liberal Democrats insist the act must stay.
One member of the commission looking into a Bill of Rights resigned recently saying it was deliberately ignoring Mr Cameron's wishes.
Protections offered by the European Convention on Human Rights - such as the right to a private and family life and freedom of expression - became directly enforceable in UK courts in 2000 via the Human Rights Act.
Critics say has been misused, including by criminals to avoid deportation, and has hindered the ability of national governments to make their own decisions.
'Make progress'
Speaking as he arrived in the US for a three-day visit, Mr Cameron was asked about the creation of a Bill of Rights - which could enshrine the rights of the individual citizen to matters such as liberty, health, housing, education and an adequate standard of living.
"I want to make progress," the prime minister said.
"This is clearly an area that if weren't in coalition government, we would be going quite a bit faster, in fact, quite a lot faster."
When they entered the coalition, the Tories put aside their pledge to scrap the Human Rights Act and instead agreed to "establish a commission to investigate the creation of a British Bill of Rights that incorporates and builds on all our obligations under the European Convention on Human Rights".
That commission was established in March 2011, but last week one of the eight commissioners, Dr Michael Pinto-Duschinsky, told the BBC he was resigning.
He said his fellow commissioners and Justice Secretary Ken Clarke had ignored his views and were not considering real change to current human rights laws.
He said Mr Clarke had followed the agenda of the human rights establishment, "sidelining not only Parliament but the prime minister, and I consider that to be disloyal".
Mr Clarke said he had played "no part personally" in the workings of the commission and the seven other commissioners said Dr Duschinsky's presence on the committee was "significantly impeding its progress".