MPs say independence of PM adviser must be strengthened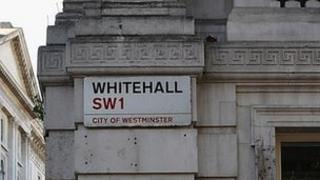 The role of David Cameron's adviser on ministerial interests needs to be strengthened to ensure its independence, a group of MPs has said.
The Public Administration Committee said Sir Philip Mawer seemed to have been "cut out of the loop" during the recent inquiry into Liam Fox's links with his adviser Adam Werritty.
The probe was conducted by the then Cabinet Secretary Sir Gus O'Donnell.
MPs said this reflected a reluctance to refer "difficult cases" to the adviser.
Sir Philip has since retired and been succeeded by Sir Alex Allan, a former chairman of the Joint Intelligence Committee.
The inquiry into Mr Fox's working relationship with his friend Mr Werritty in October found the former defence secretary had breached the ministerial code and led to his resignation.
At the time, Labour urged Downing Street to bring in Sir Philip Mawer to examine Mr Fox's conduct.
According to the Cabinet Office, the role of the PM's adviser on ministerial interests is:
to provide an independent check and source of advice to ministers on the handling of their private interests, in order to avoid conflict between those interests and their official responsibilities.
to investigate - when the prime minister, advised by the cabinet secretary, so decides - allegations that individual ministers may have breached the ministerial code
In a new report, the cross-party Public Administration Committee said it was disappointed that Sir Philip had seemingly not been consulted regarding the Fox inquiry.
Sir Philip stood down from the role shortly afterwards and the committee said it was concerned that the process to select his successor had been "closed" and no details published prior to his appointment.
While not questioning Sir Alex's abilities, the committee said it was a "misnomer" to suggest that he could be independent, given that he was appointed by the prime minister and could not initiate his own investigations.
"Public confidence in the enforcement of the ministerial code relies on the adviser on ministers' interests demonstrating independence from government," committee chairman, Tory MP Bernard Jenkin, said.
"In practice, however, the role cannot be deemed independent. We are therefore recommending strengthening the powers of the adviser and opening up the recruitment process for the post.
"Without these changes the role must be renamed to remove the word 'independent' from the title, reflecting the nature of the role as an adviser to the prime minister."
The role was established by Tony Blair in 2006 following allegations about the then Culture Secretary Tessa Jowell and her estranged husband David Mills.
Before then, the top civil servants in each government department advised ministers about conflicts of interest and the cabinet secretary investigated breaches of the ministerial code.
In his annual report in December - published after he had left the post - Sir Philip Mawer said "steady progress" had been made in ensuring the role acted as an "effective aid" in promoting good conduct.