Budget 2012: Fate of 50p tax 'not central' to Lib Dems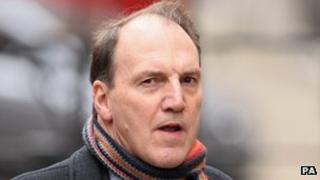 A senior Lib Dem has suggested keeping the 50p tax rate is not one of the party's "central" Budget objectives.
Deputy party leader Simon Hughes said he believed it would be wrong to lower the top rate of tax and the move was not a Lib Dem "priority".
But he told the BBC the Lib Dems were focused on getting the highest-paid to pay "considerably more" overall than on the fate of one particular tax band.
Chancellor George Osborne could lower the top rate to 45p, it is reported.
The Daily Telegraphclaimed the chancellor was considering the move as a prelude to reducing it back to 40p by the time of the next election - scheduled for May 2015.
Mr Osborne and other senior ministers - including Prime Minister David Cameron and his deputy Nick Clegg - have been finalising their Budget discussions ahead of Wednesday's annual tax and spending statement.
Mr Osborne has said the package will be focused on helping low and middle-earners deal with the continued squeeze on their living standards.
But he has come under pressure from the business community and many Conservative MPs to scrap the 50p tax rate, levied on incomes over £150,000 since April 2010.
Critics of the tax say it brings it relatively modest amounts and deters entrepreneurs and company bosses from investing in the UK and expanding their businesses.
Senior Lib Dems have insisted they are not wedded to keeping 50p but were it to be scrapped then it would have to be replaced by another tax on wealth, whether on property or other assets.
'Tax test'
Mr Hughes told the Radio 4's World at One programme that keeping the 50p rate of tax was not a manifesto commitment and "a particular tax rate is, not for us, a central aspect of the Budget".
"The 50p tax rate brings in a relatively small amount of money," he said. "My test on Wednesday will be whether the people on high incomes are paying more or less.
"The whole priority is to make sure we have a Budget for the millions not for the millionaires."
Lowering the top rate of tax "is not the right thing to do" and "is not our priority", he said, but he added that "we are in a coalition and the chancellor has made clear this will be a coalition Budget".
The Lib Dems have called for extra measures to crack down on tax avoidance and for stamp duty loopholes to be closed - as well as quicker progress in raising the tax threshold on the lowest-paid so they do not pay any tax at all.
Mr Hughes added: "If I can go to my constituents and show that the one in a hundred (wealthiest people) in my constituency and everywhere else are paying considerably more, really contributing the amount they should, then I can look my constituents in the eye and say this is a good Budget.
"That is the test, that is what we have always fought for and that is what I believe we will deliver."
'Fairness'
David Ruffley, a Conservative member of the Treasury Select Committee, said the 50p rate was "bad for jobs" and reducing it would "send a signal" that the UK was encouraging enterprise and aspiration.
But he said any such move must be accompanied, for "fairness reasons", by a commitment to raise the threshold on which no tax is paid to £10,000 sooner than currently planned in 2015.
Labour have said the government should not be cutting the top rate of tax at a time when the priority should be helping the millions of people out of work and others facing a freeze in their pay and rising prices.
The chancellor has always said the 50p tax should be a temporary measure and said any decision would be influenced by a forthcoming HM Revenue and Customs report on how much extra tax it raised in 2010-11.
When the 50% rate started, Her Majesty's Revenue and Customs estimated that it would raise more than £2bn a year. Latestestimates from the Revenueshow that there are likely to be 308,000 people paying the 50% rate this year.