Government 'complacent' over Whitehall credit cards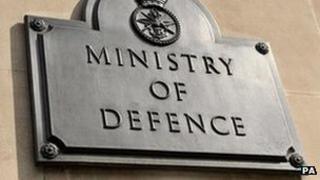 The government has been accused of "complacency" after the National Audit Office warned controls on use of its credit cards were not strict enough.
Some £322 million was spent on cards in 2010-11, but the NAO said there was "a large backlog of unapproved transactions" in some departments.
The Public Accounts Committee said government must tighten its procedures.
The Cabinet Office said "proper use" of cards could save taxpayers money, but it would "not tolerate their abuse".
Figures from October 2011 show 23,998 so-called government procurement cards were in use across Whitehall.
The NAO examined their use in five departments - the Department of Health, the Department for Work and Pensions, the Foreign and Commonwealth Office, the Ministry of Defence, and the Ministry of Justice.
The MoD accounted for three quarters of the £322 million spent in 2010-11. Spending in the first half of the 2011-12 financial year totalled £149 million.
'Notable weaknesses'
The NAO found that when used appropriately, cards could be "a cost-effective way for government to procure goods and services", and accepted the coalition was trying to strengthen central oversight of their use.
But it said there was no clear guidance on when cards should be used and some departments showed "notable weaknesses" in their systems.
"We found different controls in each of the five departments we examined," the report said.
"There were instances of departments not complying with controls, such as missing receipts or invoices to support transactions, or no evidence that the cardholder was authorised to make purchases.
"In some departments we identified more significant issues, including a large backlog of unapproved transactions, and limited approval and reviewing procedures."
It added: "Some departments have inadequate management information and cannot monitor government procurement card use effectively.
"This presents a further weakness in departmental controls. Without accurate data, departments cannot monitor adherence to policies, assess exposure to risk, or review whether controls meet business need."
Margaret Hodge, chair of the Public Accounts Committee, said the NAO had found "a culture of complacency in some departments".
"Given the risks of fraud and poor value for money, I am concerned that neither departments nor the Cabinet Office know enough about the use of procurement cards in government," she said.
"When the average transaction value is £184, the initiative to publish transactions over £500 is not enough to protect public money from fraud and misuse.
"We will want to know what action the government is taking to improve controls."
'Transparency programme'
The NAO also warned that government was relying on figures from 1998 to suggest the cards offered value for money - something Ms Hodge said must be rectified.
A Cabinet Office spokeswoman welcomed the NAO's report and said it would respond in full later.
"The proper use of these cards can help save the taxpayer money but let's be absolutely clear: we will not tolerate their abuse," she said.
"As part of our wider transparency programme, we are now publishing online information on these cards so that everyone can see and scrutinise their use.
"This report covers the period before our new central policy and governance arrangements on procurement cards was introduced."
While departments only have to disclose credit card transactions above £500, some have previously disclosed every purchase, among them doughnuts, flying lessons and a fridge.