Budget's two major announcements from the chancellor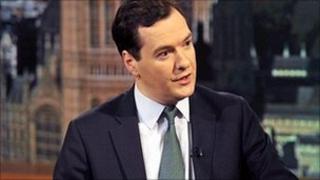 The Daily Politics understands Wednesday's Budget will be dominated by two major announcements.
1. The tax-free allowance before income tax clicks in will be increased more quickly than the coalition agreement currently envisages, reaching £10,000 in April 2014, a year earlier than planned.
2. The top rate of income tax will be cut from 50p to 45p, but not until April 2013.
The significance of the phasing of these two measures is that it leaves the chancellor's Budget deficit arithmetic largely untouched over the next two years. The tax-free band will increase this April and next in line with current announcements.
Then it will increase twice as fast as currently envisaged in the 2014 Budget to take it to £10,000.
The Budget Red Book will show the fall in the top rate to 45p as revenue neutral (the Office for Budget Responsibility has signed off on this).
The 2011-12 deficit was projected to be £127bn in the November statement but now looks like it will come in lower than that.
Until recently it was thought it could be a lot lower but a late flurry of spending by departments and lower than expected tax receipts (partly because of lower bank bonuses) mean it might only be a few billions less.
The chancellor aims to bank whatever the shortfall and improve on it in 2012 and 2013 so he has the money to pay for the move to the £10,000 threshold in 2014. It will also be paid for out of various clamp downs on tax avoidance he will announce.
Electoral bribe
The move to a new 45p rate is an interim measure but there is no agreement on when it would go to 40p.
The chancellor wanted to go straight to 40p in return for a variation of the mansion tax and the Lib Dems were up for that. But the prime minister did not agree.
The chancellor would still like to go to 40p in 2014 when the first £10,000 of income becomes tax free. But the Lib Dems are insisting on some other tax on the rich as a quid pro quo.
The agreement to move to a £10,000 threshold in 2014 rather than 2015 (as the coalition agreement currently envisages) was seen by both sides as good politics: to get the money into people's pockets a year before the election was seen as better than a tax cut only a month before the next election, when it could easily be dismissed as an electoral bribe.