MP John Hemming upset at phrase 'tonne of bricks'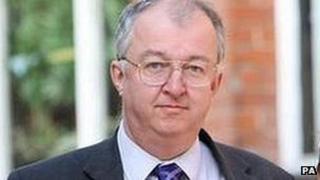 A Liberal Democrat MP is calling on the media to stop using the phrase "a tonne of bricks", claiming it is incorrect.
John Hemming says it should be "ton", the imperial weight, not "tonne", which is a smaller metric measurement.
He has tableda Commons motioncondemning what he calls the "unnecessary metrication of traditional British phrases".
The words have been widely quoted in recent days after the chancellor used them in relation to the Budget.
George Osborne told the BBC's Andrew Marr programme on Sunday that buying homes through a company to avoid stamp duty was "unacceptable" and pledged to "come down on that practice like a ton of bricks".
'Trend'
A tonne is equivalent to 1,000kg, while in the UK, a ton is defined as 2,240lb (1,016kg).
In the United States, however, a metric ton is actually the same as a British imperial tonne.
In his Early Day Motion, Mr Hemming calls on the House to recognise that using the form "tonne of bricks" is "part of a trend of metrication of traditional British phrases".
He argues that "given that a ton is greater in weight than a tonne, this understates the chancellor's commitment to action".
And he calls on the BBC and other media outlets "to cease the metrication of traditional phrases forthwith before people end up being exhorted not to give another 24.5 millimetres rather than not giving another inch".