Peers 'cost £496,000 per week'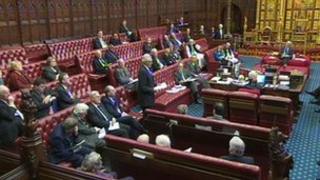 The government's chief whip has told the House of Lords that peers' expenses total nearly £500,000 a week.
Baroness Anelay quoted the figure when telling peers they are to have a week longer than MPs for their Easter break.
Responding to a question from Labour peer Lord Dubs about costs, Lady Anelay said the weekly cost of peers' expenses - around £496,000 - would be saved.
Unlike MPs, most peers are not paid a salary but receive a flat rate of £300 for each day they attend Parliament.
They also get some travel costs paid.
The Lords rarely sits on a Friday, which would make the cost from Monday to Thursday approximately £124,000 per day.
If all 786 peers and bishops attended and claimed £300 the cost would be £235,800 per day, but some peers do not attend the House, while those who do can voluntarily claim a lower allowance of £150, or claim no allowance at all.
The flat rate was introduced following cases of peers claiming for overnight expenses when they did not stay in London.
Following the announcement to peers, Lord Campbell-Savours asked the government where the money will go.
"Could it go back into our budgets?" he asked.
But the Labour veteran was in for a disappointment, as was any taxpayer hoping that a longer recess means a net saving of public money as Baroness Anelay said peers sat for a total of seven days longer than MPs during 2011.
She praised the "hard-working nature of this House".
Peers will get an extra week's holiday while MPs consider the Finance Bill, which gives a legal basis to measures announced in the Budget.
The last minute extension to the recess led Labour Chief Whip Lord Bassam to accuse the coalition of a "chaotic approach to legislation".
The House of Lords will return from its Easter break on Monday 23 April, rather than 16 April as originally planned.