Would-be MPs compete for city's sense of hope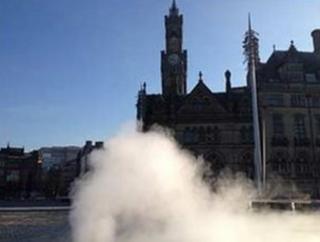 The Bradford West by-election takes place on Thursday, but what is the mood among voters and candidates?
A teenager with her school uniform on, but shoes off, splashes around in the water.
She is one of about 100 enjoying the so-called "mirror pool".
Bradford City Park has the feel, and mood, of the seaside.
The 4,000 sq metre pool has just opened. It is a couple of inches deep and features 100 fountains. And it has been a long time coming.
The writer Bill Bryson once wrote that Bradford's role in life was to make everywhere else look better.
Many a previously proud Bradfordian has reluctantly agreed with him recently.
'No good'
A city centre renovation project fell through. That area remains a barricaded-off wasteland. Civic pride has been in short supply.
Beyond the screams, the smiles and the splashes, the prospects for many remain bleak.
"It's really hard to find work," Michelle, aged 34, says. "I have been trying to find a job for a few months now. Everyone on the social seems to be going on holiday and when you are actually looking for a job you don't get nothing. The politicians need to sort out their priorities."
"I went to college but that was no good," adds Rhiannon, 19. "Then I left and I started looking for work. I've still not got anything."
Natasha, who is also 19, reveals that she has been out of work for a year.
Bradford West has been a Labour seat since 1974. The outgoing MP Marsha Singh stood down due to ill health, triggering a by-election.
'Finished article'
But voters here can buck national trends. In 1997, the year of the Labour landslide nationally, there was a swing to the Conservatives. In 2010, when Labour lost power, there was a swing to the party here.
The Labour candidate Imran Hussain, 33, is a barrister, and long-standing chairman of the local Labour Party.
"These are difficult times for people here," he says, knocking on a door in Allerton, a leafy part of the constituency overlooking the city centre.
"One of the things that is coming across very strongly on the doorsteps is long-term youth unemployment. That has tripled here since this time last year."
But could the left-leaning vote be split? The former Labour MP George Galloway is running for Respect, complete with an advertising van and a recorded message delivered via megaphone. "I know how to do the job. I am the finished article," it booms.
Mr Galloway sees an opportunity emerging out of the so-called "donations-for-dinner" row at Westminster in the last few days.
"The political class that we have at the top as was shown in the cash-for-honours extensive police enquiry and now this new scandal involving the Tories shows a revolving door between multi-millionaires and political funding. And it is definitely an issue that is beginning to emerge in the by-election."
Jockeying
Nearby, Conservative candidate Jackie Whiteley is introducing herself to staff at one of the constituency's biggest employers, Seabrooks Crisps. As we don hairnets and overalls for a tour of the factory, we are told they make a million bags of crisps a day here. Mrs Whiteley is here to make friends and meet apprentices.
I put it to her that the Conservatives need to win seats like this if they are to gain an overall majority at the next general election.
She replies that "it is" the case, adding: "I think it is going to be really close, and I am very positive. Bradford West has never had a woman MP and I want to change that."
Among the other parties in contention here, there is an interesting jockeying for position.
The yardstick both the Liberal Democrats and the UK Independence Party use to measure their own success is not winning, but beating each other.
Is it all about coming third? I ask Sonja McNally, the UKIP candidate.
'Rock 'n' roll'
"Yes, it is," she says, before explaining her recent conversion from the Green Party to Nigel Farage's outfit.
With the Liberal Democrats' poll ratings ranging from the lacklustre to the downright dire, the party appears to have lost its by-election mojo since the coalition was formed.
So much so here that, while Messrs Cameron and Miliband have paid a visit, when I meet Lib Dem candidate Jeanette Sunderland, her leader is in South Korea.
"It is a damned good job Nick Clegg is in Korea," she says defiantly. "Have you seen the amount of business that is going to come Britain's way as a result of him being there? I think you can do a damned sight more for Bradford West there than coming here for half an hour and only talking to journalists."
My rapid-fire relay around Bradford concludes with a chat to Dawud Islam, running for the Green Party.
"I think this election is about who can bring real hope. I don't see it in the main three parties, and then you have got a showbiz rock 'n' roll politician (Mr Galloway), who brings all sorts of baggage with him."
And yes, jobs, hope - however that is articulated - and a deeper-seated feeling that politicians care is what people here appear to crave.
The two other candidates running in the by-election are Neil Craig of Democratic Nationalists and Alan "Howling Laud" Hope, who will stand for the Monster Raving Loony William Hill Party.