Profile: London mayoral candidate Lawrence Webb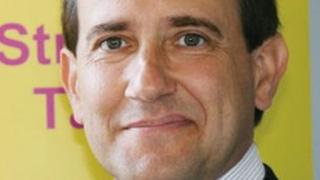 Blocking EU regulation of London's bankers and curtailing the extension of the low-emission zone are two of UK Independence Party mayoral candidate Lawrence Webb's main political priorities.
Mr Webb was once the chairman of his party in London, which he hails as "one of the world's greatest global financial capitals".
But small businesses are also a central concern for the candidate, who worries that new rules on cutting vehicle emissions will force ice-cream vans "off the streets of London".
Before entering politics, Mr Webb - who did not go to university - ran a nightclub in Tokyo as well as working in Australia and New Zealand.
After returning to the UK in the late 1990s, he worked as an electrician and spent eight years in the Territorial Army.
He became an active member of UKIP in 2000.
Since 2004, he has been assistant to Gerard Batten, UKIP MEP for London, as well as the party's chief organiser in the capital.
'Londoners first'
Some party activists believe he is likely to be one of UKIP's candidates at the next European elections in 2014 and could potentially succeed Mr Batten one day.
Mr Webb, who backed Tim Congdon in the party's 2010 leadership contest, defeated five other candidates to win the mayoral nomination last September.
He told the party's annual conference shortly afterwards that his seven year old daughter Jennifer had been elected to her school council and this "proved the Webbs can win in London".
Although the mayor has no formal powers over UK border policy, Mr Webb hopes to influence the government's stance on immigration to bring about a reduction in new arrivals to the capital, which he believes will "ensure that Londoners are put first when it comes to jobs and housing".
Developing strategies to enforce the law more effectively in London and prevent a repeat of last summer's rioting would also be a priority.
Transport ideas
On transport, he opposes a third runway at Heathrow and has called for the expansion of Manston Airport in Kent into an "international hub" as an alternative to building a new airport in the Thames Estuary.
If elected, he would introduce a 70-minute bus ticket so people don't have to pay more than once for multiple journeys in quick succession.
He would also cut the cost of tickets bought between 9am and 9.30am to 75% of the full peak fare.
More controversially, he has called for VAT on beer and cider to be slashed to 5% and for pub landlords to be able to open smoking rooms on their premises.
But he has been forced to admit, as mayor, he would not have the power to deliver either pledge.
He has said the party needs to be represented on the London Assembly to provide an "independent" voice" and to keep the mayor in check.
Two UKIP candidates were elected to the London Assembly in 2004, before defecting from the party and launching the now-defunct One London Group.
Although he is third on the slate of UKIP candidates for the Assembly, Mr Webb says he is very much focused on the mayoral race and has stated that coming third would be a "huge victory" for the party.