Nick Clegg disputes PM's claim over web snooping plan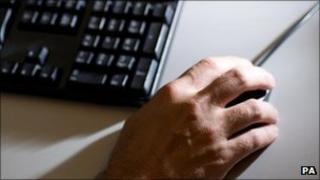 Nick Clegg has not yet agreed to plans for new powers to monitor internet communication, it has been claimed, amid a coalition dispute on the issue.
David Cameron had earlier said Lib Dems were "round the table" when the plans, which he says will simply help police keep up with technology, were drawn up.
But a spokesman for Mr Clegg said the "full details" had been not discussed and proper scrutiny would be needed.
Civil liberties groups and some MPs say the plans are a "snooper's charter".
The full proposals, which the Home Office says are aimed at tackling crime and terrorism, have not yet been published.
But it is thought that internet firms would be required to give intelligence agency GCHQ "real-time" access to emails, calls and messages without a warrant. They would not be able to see the content of the messages - but would be able to identify who someone was in contact with, how often and for how long, and which websites they had visited.
On a flight to Japan, at the start of a week-long visit to East and South East Asia, the prime minister urged critics to wait to see the proposals, saying his deputy Nick Clegg and other "people from impeccable civil libertarian backgrounds" had looked at the plans.
'Technological gap'
"No one is talking about changing the rules and snooping into the content of somebody's telephone calls or emails," he said, adding that a warrant would still be needed, signed by the home secretary.
"All we're talking about here is making sure we're keeping up with technology. We have always been able to see who people are contacting through phone calls. It used to be the case that the communications data of 90% of calls could be accessed but that's not the case with Skype and other new technologies.
"I think it's important that people see the detail and hear the arguments. You've got to remember that this was a National Security Council where, sitting round the table, was Chris Huhne (former Lib Dem energy secretary) , Nick Clegg, Ken Clarke (Conservative Justice Secretary) - people from impeccable civil libertarian backgrounds.
"I think when people see the detail they will understand this is a very sensible way of keeping up with technology and not a snoopers' charter."
'Balance needed'
But a spokesman for Mr Clegg said he had merely agreed at a recent meeting of the National Security Council that he would look at proposals to "address the police's technological gap to deal with serious criminals and terrorists".
"He (Mr Clegg) also made clear that they could only proceed if they took into account and protected civil liberties," he added.
"The full details of those proposals have not yet been brought forward by the Home Office. When they are, they must be carefully scrutinised to get the balance between security and liberty exactly right."
Mr Clegg has insisted any enhanced powers, plans for which could be included in next month's Queen's Speech, must be subject to extensive study by MPs before becoming law.
On Sunday, Lib Dem President Tim Farron said the Lib Dems were "prepared to kill" the plans "if it comes down to it" while suggesting he would be surprised if the final plans looked "anything like the press reports we have had".
But Nick Pickles, director of campaign group Big Brother Watch, has called the move "an unprecedented step that will see Britain adopt the same kind of surveillance seen in China and Iran".
Separately, Mr Clegg has reportedly written to the National Security Council to say his party will not support plans to extend powers to hear evidence in secret to civil cases unless some changes are made.