Rival campaigns fight over directly-elected mayors in England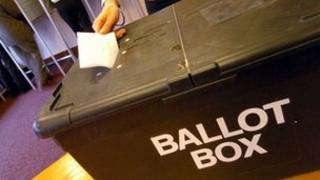 Rival campaigns for and against directly-elected mayors are pressing their cases in cities across England.
On 3 May, 10 cities will hold referendums on whether to create the new post, while three more, London, Liverpool and Salford will hold mayoral elections proper.
Prime Minister David Cameron is strongly in favour of elected mayors.
But Labour and the Lib Dems have been less supportive, with some Labour councils actively opposing them.
Last week, Cities Minister Greg Clark withdrew funding from Bristol City Council after it published what he called an "unbalanced" leaflet about the pros and cons of a directly-elected mayor.
If any of the 10 cities vote in favour of having a mayor, elections will be held later this year.
Sitting MPs
Mr Cameron has said those chosen will get to sit in an English "cabinet of mayors" which will meet at least twice a year under his chairmanship.
This, he argues, will give them the opportunity to share ideas and lobby for their cities at the very top of government.
Enthusiasm for the idea has varied across England, with Birmingham one of those in which several candidates have come forward.
Sitting Labour MPs Liam Byrne and Gisela Stuart and their former colleague Sion Simon have all expressed their intention to stand.
Those in favour argue that elected mayors will improve transparency and boost local democracy.
But as in other cities, a vociferous No campaign has sprung up in Birmingham, recently courting controversy by comparing a future mayor with Hitler and arguing about the dangers of concentrating power in one person's hands.
In Nottingham, the Labour council is leading the No campaign, putting up posters around the city. The Labour group has sent newsletters to local people claiming that a "Tory Extra Mayor" will cost £1 million.
In Newcastle, Labour and the Liberal Democrats - the two main political parties in the city - are largely opposed to the idea, and Labour has decided not to actively campaign on the issue.
Unions are also playing a role in opposing the plan, for example, in Sheffield, where Unison have argued it is being "imposed" on the city with "no public demand" and could cost hundreds of thousands of pounds.
'Popular recognition'
The row in Bristol erupted after the government agreed to fund leaflets in each of the 10 cities to give residents more information about the vote.
But Mr Clark said the city council's claim that a new mayor would cost the taxpayer £400,000 was inaccurate, arguing that it would be only £170,000.
The government has tried to drum up support for directly-elected mayors by sending big hitters like former Conservative deputy prime minister Lord Helestine to promote the idea.
He told an event last month that mayors would be "more important than cabinet ministers" in the future.
Former Labour Transport Secretary Lord Adonis has also giving them his backing, arguing that mayors would have "greater popular recognition" than local politicians currently have and would be able to use that to achieve more for their cities, for example, by luring private sector investment.
But Mr Clark has admitted there will be "plenty of antagonism" in Whitehall to the prospect of devolving more powers, despite those sorts of advantages.