MPs urge scrutiny of local services' value for money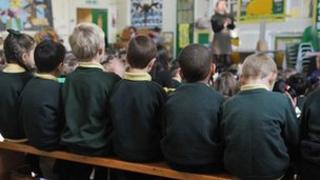 More clarity and consistency are needed to ensure watchdogs can properly monitor public services decentralised by the government, MPs have said.
Ministers say creating foundation trusts, free schools, elected police authorities and other bodies will remove power from Whitehall.
But the Commons Public Accounts Committee demanded assurances that value for money would be preserved.
The government said it was "committed to strengthening accountability".
In its report, Accountability for Public Money, the committee said communities needed high-quality data to hold service providers to account.
'Particular concerns'
Its chairman, Labour MP Margaret Hodge, said: "The government is implementing its localism agenda across public services with, for instance, foundation trusts, academies and free schools, and elected police authorities.
"However, it is critical that parliament and taxpayers are able to follow the taxpayer's pound to ensure probity and value for money.
"To date, the arrangements which reconcile accountability and localism do not provide the necessary assurance on either probity or value for money. They lack clarity, consistency and completeness."
The MPs raised fears about the quality and availability of data, criticising the lack of comparability and consistency of records.
They said there were "particular concerns" about the way education information was documented, warning there was not enough emphasis on achieving value for money.
The committee also found that incomplete and inconsistent data made it difficult to compare all schools on their academic performance and use of resources.
Question marks
It warned about the risk of "gaming" the system by those producing records by "massaging the information" to present it as positively as possible.
Mrs Hodge said: "We believe that local accountability can work, but there are still too many question marks over how the mechanisms will operate in practice.
"In education, for example, Ofsted focuses on teaching standards, the Department for Education on distributing resources, and parents on children's outcomes. It is not clear who will be responsible for value for money.
"Furthermore, it is vital that all decentralised bodies provide clear information that can be compared. We found that so far academies have not provided proper data returns on time."
She added: "Greater confidence is also needed in the capacity and skills of oversight bodies. The mandates of regulators, inspectors and funding bodies are often unclear and their responsibilities are growing as their funding diminishes."
A Department for Communities and Local Government spokesman said: "The government is committed to strengthening accountability to local people and service users, and reducing bureaucratic central controls.
"Driving value for money is central to reforms to public services and there is robust evidence that increasing accountability to users improves the quality and efficiency of services.
"Transparency is key to strengthening accountability, and that's why the government has made great progress in opening up local data, for instance the publication of spending by local councils over £500.
"We welcome the committee's report and that it recognises the significant progress the government has made. We will respond in the normal way once we've had time to fully consider it."