Local elections: Vote registration deadline looms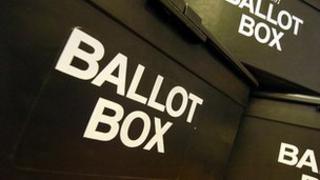 Anyone wanting to vote in elections across the UK next month must register by the end of Wednesday.
The Electoral Commission has a form on its website which can be printed out, filled in and then handed in at local electoral registration offices before Wednesday midnight.
The watchdog stressed that the form must be clearly signed to be accepted.
Council elections will be held on 3 May in England, Scotland and Wales as well as mayoral polls and referendums.
People living in England, Scotland and Wales should contact their local registration office to find out if they are already registered to vote.
Registration forms can also be obtained from local electoral offices. All forms must be received before midnight.
While forms can either be scanned and sent by e-mail, or faxed, the watchdog advises people to check with their local offices before submitting them this way to make sure they will be accepted.
Contact details for these offices, and where to send completed registration forms, can be found on the Electoral Commission watchdog's special website, aboutmyvote.co.uk.
Those applying for a postal vote must do so by 17:00 BST on Wednesday. Forms can be obtained from local electoral offices or the Electoral Commission website and must also be returned by either post or hand.
The deadline for proxy votes - where someone is unable to vote because of illness and nominates someone else who is eligible to vote to do so on their behalf - is 17:00 BST on 25 April.
There are no elections in Northern Ireland next month.