Cameron pushes 'Yes' vote for elected city mayors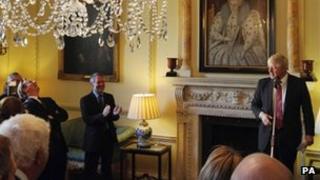 Prime Minister David Cameron has urged cities across England to take a "once in a generation chance" to seize change by backing directly-elected mayors.
Cities which support creating the new posts will prosper, while those which do not risk "stagnating", he told local councillors and activists in Bristol.
Some Labour councils have opposed them, warning against concentrating power.
Ten cities will hold referendums on 3 May, with mayoral elections proper held in London, Salford and Liverpool.
If any of the 10 cities vote in favour of having a mayor, elections will be held later this year.
'Powerful champions'
Mr Cameron said: "Britain stands on the brink of exciting democratic change.
"Let's be clear what this moment means. It's not some trivial re-structure or fiddling about.
"It's about more investment across our country. More jobs for our workers. More life in our political system. It's a once-in-a-generation chance to change the way our country is run.
"I passionately want those cities - from Bristol to Birmingham, Nottingham to Newcastle, Sheffield to Wakefield - to give a resounding, emphatic yes next week."
He argued that a yes vote would provide powerful champions to represent people's interests.
"If you want your local champion speaking to the heart of government, banging their fist on the table for Birmingham, or Bristol or Leeds - get out and vote yes," he said.
"If you want to see your city grow more prominent, more powerful, more prosperous - get out and vote yes."
Mr Cameron has said chosen mayors will sit in an English "cabinet" which will meet twice a year under his chairmanship.
This, he argues, will allow them to share ideas and lobby for their cities at the very top of government.
But Labour and the Lib Dems have been less supportive of the proposed reforms.
A controversial No campaign in Birmingham recently compared a future mayor with Hitler.
In Nottingham, the Labour group has sent newsletters to local people claiming a "Tory Extra Mayor" will cost £1m.
And in Newcastle, Labour and the Liberal Democrats - the two main political parties in the city - are largely opposed to the idea.
Although a number of former Labour ministers have said they plan to stand for election as mayors, the party has decided not to actively campaign on the issue.