Quango cull savings claim of £2.6bn criticised by MPs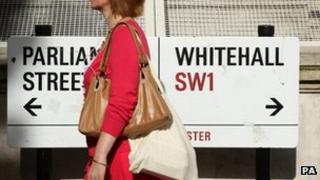 The government's claim to be saving £2.6bn by scrapping scores of quangos is based on "incomplete and imprecise" figures, MPs have said.
The Public Accounts Committee said there had been "good initial progress" on the plan to axe at least 262 bodies.
But it said some savings "may amount to no more than cuts in services", rather than being down to less bureaucracy.
The Cabinet Office said £2.6bn was based on "departments' best estimates of the impact of reform".
Quangos - quasi-autonomous non-governmental organisations - are arms-length bodies funded by Whitehall departments but not run by them.
They are advisory boards, consumer watchdogs or organisations carrying out public services.
'Substantial concerns'
The Cabinet Office is aiming to reduce the number of quangos from 904 to between 632 and 642 by 2015. Some of those set to go include the Audit Commission and the Film Council.
But MPs on the influential Commons committee said they had "substantial concerns about the robustness of the government's claim" that this would result in administrative savings of £2.6bn.
"This figure is based on incomplete and imprecise estimates from departments on the savings made and costs incurred," chairwoman and Labour MP Margaret Hodge said.
"Some of the claimed savings may amount to no more than cuts in services, rather than constituting genuine savings resulting from administrative reorganisations.
"The estimated costs of closing bodies, including payments for redundancies and pensions, are incomplete.
"And not enough account has been taken of the continuing additional costs to other parts of government of taking on functions previously carried out by the abolished bodies."
Ms Hodge also said some of the quangos - such as regional development agencies - had significant assets, and she was concerned that the best possible value for taxpayers' money would not be achieved when those were disposed of.
'Best estimates'
She said the Cabinet Office had accepted its £2.6bn savings estimate needed to be "reassessed".
The new figure, expected this month, must take into account the committee's concerns, she added.
The Cabinet Office said it was "delivering the largest overhaul of public bodies in a generation" and had already closed 72 quangos since May 2010.
"Departments expect that our reforms will save taxpayers £2.6bn from the administrative cost of public bodies within scope of the programme, and their savings are net of the cost of closing or reforming the quangos," a spokesman said.
"As discussed at the PAC hearing in February, these figures represent departments' best estimates of the impact of reform, and we will continue to report improved figures to Parliament."